Battlefield 2042 is coming at the end of this year, and it is available for pre-order at the best price if you want to prepare its release planned for October 22nd. Pre-order links for all platforms are available at the bottom of the page.
Battlefield 2042 looks like the most exciting game of the franchise since its early 2000's launch. EA is taking the online game to the next level with Battlefield 2042, an FPS that seeks to unite all fans in massive online combats. If you are a fan of total war, Battlefield provides the best experience on PC and consoles with confrontations involving an impressive number of players.
This time, the scene of operations takes place in 2042, a futuristic era. The weaponry has been redesigned accordingly and so has the different types of transportation and other gameplay improvements required by the environment.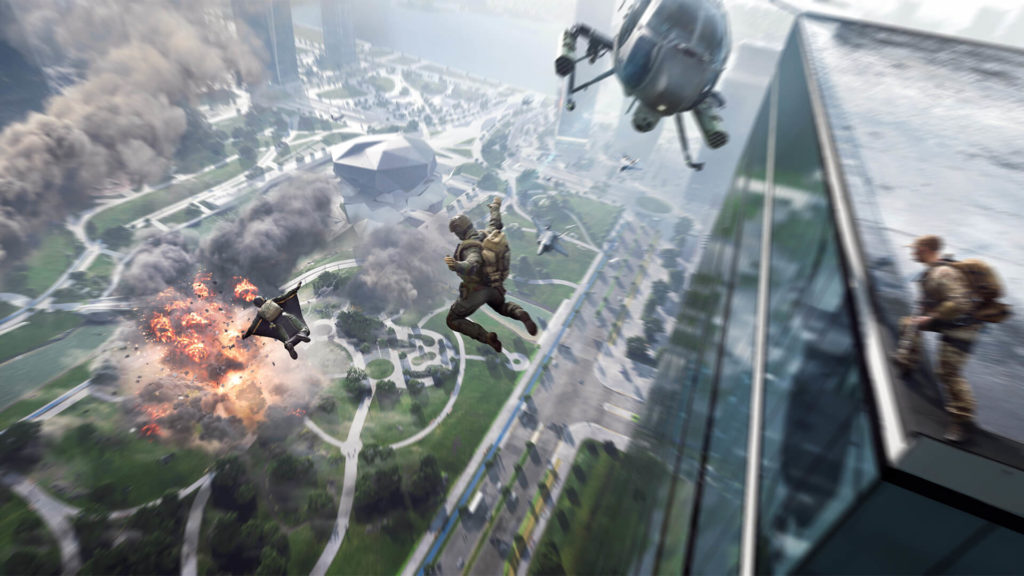 Regarding the other features, the concept remains the same: A huge battlefield uniting 128 different players on PC and Next-Gen consoles who compete against themselves. The conquest and rush mode will be part of the game but other modes are anticipated.
In fact, DICE has revealed Battlefield Portal. This sandbox mode is a true tribute to the Battlefield community that has supported the franchise until today. We are expecting the revelation of a new mode that should be announced in the next few weeks by the publisher.
The Swedish studio has great experience in multiplayer games. The Battlefield licenses are very famous for their innovations and deep immersions in the world of military battles. Each generation has its own Battlefield. So, with the arrival of the PS5 and Xbox Series, the franchise is finally back, focusing entirely on multiplayer. No single-player campaign, here players will be able to compete online or against the AI up to 128 soldiers!
EA made a promise to us and now it's finally here! This Battlefield 2042 will be released on PS5, PS4, PC, Xbox Series, and Xbox One with some exclusive new features! First of all, you can compete in battles with up to 128 players!
Massive fights are coming up and we can expect some epic moments that have never been seen before in the game. For more information, EA is giving us an invitation to attend the E3 to watch an exclusive gameplay sequence. The release date is scheduled for October 22, 2021.