Eidos Montreal has published a new making-of video about its next game, Guardians of the Galaxy. The chance to discover more about the different design choices made by the developers to provide "a new vision" of the Guardians.
With the upcoming single-player action game Guardians of the Galaxy, Eidos Montreal is introducing its own interpretation of the mercenary group from the Marvel universe, featuring Peter Quill (aka Star-Lord), Gamora, Drax, Rocket, and Groot. In the game, the Guardians were formed less than a year ago. They wander the galaxy pursuing new adventures, until they accidentally cause a powerful entity to rise up. As Star-Lord (the other Guardians are controlled by AI), you'll have to explore planets "populated by iconic Marvel characters and newcomers" to prevent a potential disaster.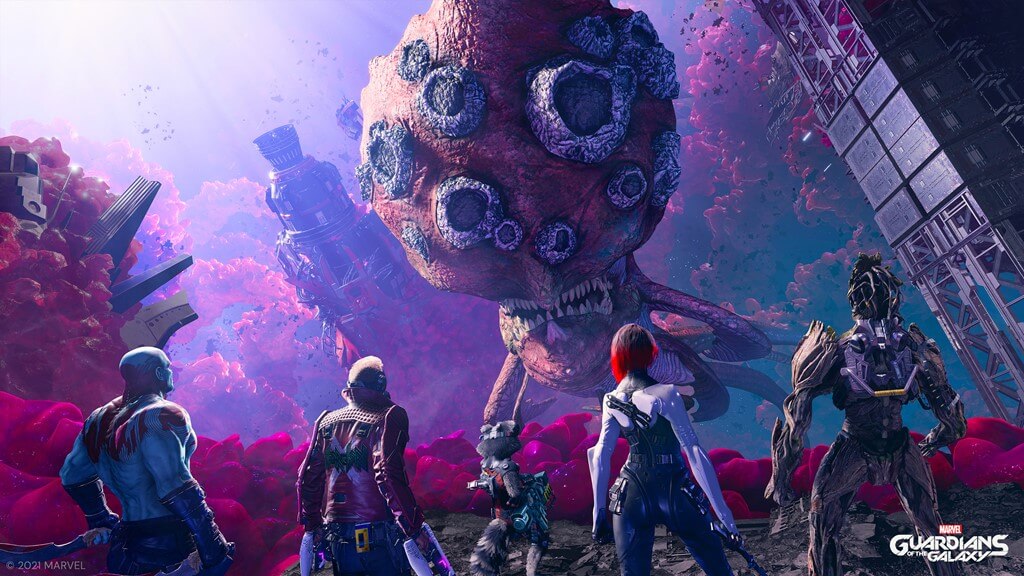 We wanted to keep the design of the Guardians true to the story we created, while making it instantly recognizable as the Guardians of the Galaxy that the fans love. We've built this funny, dysfunctional family by combining elements from the Marvel comics with the backstory we've imagined for them, giving each Guardian a unique look that fits into the gameplay mechanics.

Bruno Gauthier, art director of Guardians of the Galaxy
In this making-of video, we can see that Star-Lord's outfit is full of references to the 80s, such as tributes to his favorite rock band. Drax's tattoos remind us of both his past battles and his home planet of Katath. For Gamora, Eidos Montreal wanted to give her a powerful and imposing style inspired by comic books. Finally, Rocket and Groot's appearances are linked to symbolize their relationship.
Guardians of the Galaxy will be available on October 26 on PC, PS5, PS4, Xbox Series X|S, Xbox One, and Nintendo Switch (cloud version).