Activision will launch tomorrow a new season of free content for Call of Duty Warzone and Black Ops Cold War including a brand-new Zombies experience, six free-to-acquire weapons, four new maps, new points of interest in Verdansk, and much more. The publisher released a video and some details about the content of his battle pass.
This season 2 will bring a total of four new operators: Maxis, Wolf, and Rivas from NATO, and Naga from the Warsaw Pact. It is the latter that you will unlock instantly by purchasing the battle pass, with the ability to unlock the legendary "Cobalt", "Ashen Scale", "Crimson Code" and "Rattlesnake" skins by completing challenges.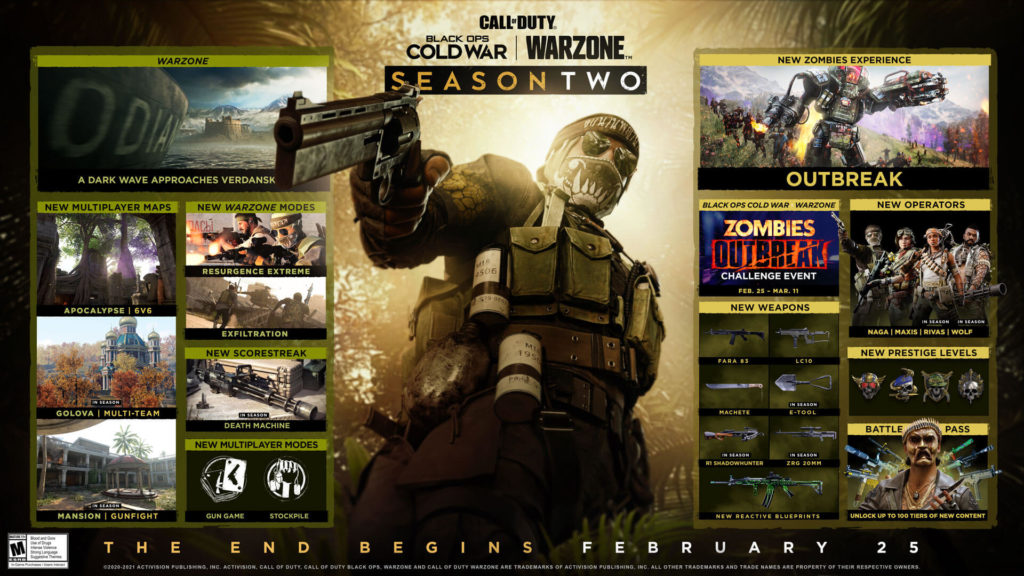 Buyers will also get the Survivor skin for Park and the associated operator mission, the Wellington Safari watch, and a 10% boost on experience gains during the season. A total of 20 weapon plans are on the program, including 11 legendary and one "ultra" rarity: the "Exo Vulture" at level 95, an "ultra-reactive" weapon whose color will change as it is eliminated.
The FARA 83 assault rifle and LC10 submachine gun will be unlockable at the launch of Season 2 on levels 15 and 31 respectively of the battle pass on the Free Rewards Track, which also includes the Black Ops II Mixtape, Rock Pack II, and Pop Pack "War Track Packs" on levels 72 and 94.
Later in the season, the Machette, Trench Shovel, R1 Shadow Chaser, and ZRG 20mm sniper rifle will join the arsenal. As always, 300 COD points will be available free of charge throughout the ranks, and an additional 1,000 points for buyers of the battle pass.