Release Date : August 20, 2021
Developers : Sucker Punch Productions
Publisher : Sony Interactive Entertainment
Platforms : Playstation 4, Playstation 5
More than a year after having raised its katana for the first time on PS4, Ghost of Tsushima is now back with a Director's Cut available on both PlayStation 4 and PlayStation 5. It's an opportunity for fans to dive back into Jin Sakai's original story, this time with a few new features, but above all to discover a new narrative arc with its own new area: Iki Island. Are these reasons enough to go back to the adventure? We will answer with our review.
This test was done on PS5. Ghost of Tsushima: Director's Cut is also available on PS4.

Director's Cut: What happens if you own the base game on PS4?

Small and informing point – but important – if you want to acquire Ghost of Tsushima: Director's Cut. Starting on August 20th, 2021, the title will be available for 69.99$ on PS5 and 59.99$ on PS4. If you already own the original game on PlayStation 4 (digital or physical), you'll have to pay 19.99$ to upgrade to the Director's Cut on the same platform, and 29.99$ to upgrade from the standard PS4 title to its expanded version on PS5. Finally, if you buy Ghost of Tsushima: Director's Cut at full price on PlayStation 4 and want to play it on next-gen, you'll have to pay 9.99$. Savegame transfer is supported.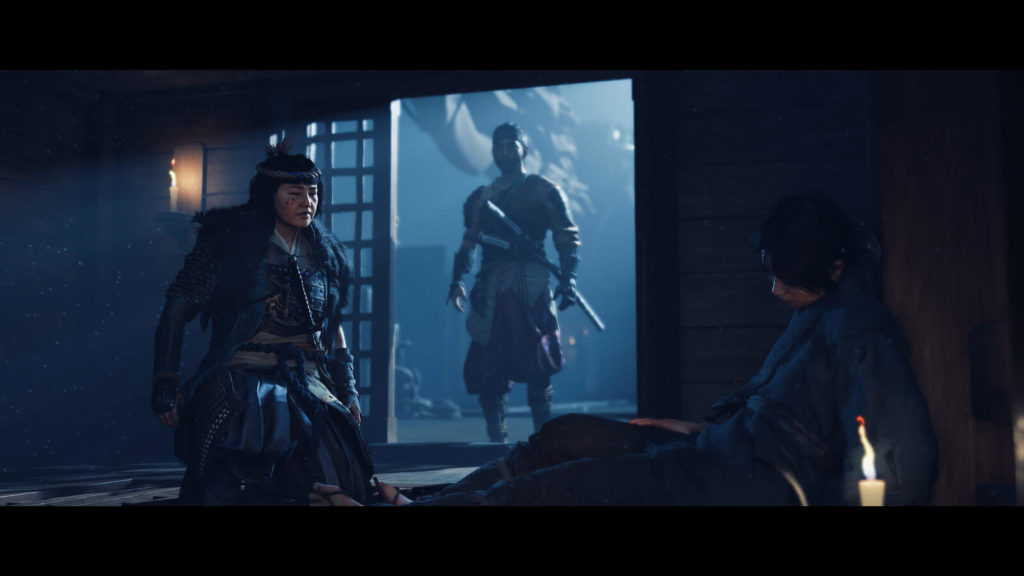 After a first adventure that was highly appreciated by the press and the players, Ghost of Tsushima is back with this Director's Cut. A version that offers a few improvements compared to the base game – we'll talk about it later – but especially Iki Island, a new explorable area with its own narrative storyline, accessible at the end of Act 2 or after having already completed the game (a new quest simply appears in your journal). So it is with this big piece that we will start. Jin Sakai, the great hero of Ghost of Tsushima, has to go to Iki Island to investigate the rumors of a Mongolian threat. But very soon, under the power of Ankhsar Khatun, known as the Eagle, he is forced to relive some traumatic events of his past, related to his father's death. Jin will have to do everything to get out of it.
AN INTIMATE AND SUCCESSFUL ADVENTURE
First good point for this Director's Cut: the plot on Iki Island seemed to be more mastered than the one on Tsushima, probably because it was more focused and less "mechanical". Here, Sucker Punch studio works on the main adventure, which will take you five hours to play (double if you want to do all the side activities), which is about the length of one of the three acts of the original story. But this time, there is no repetition effect due to Khotun Khan's escape, which lengthened Jin Sakai's epic in a kind of artificial way. The quest to defeat the Eagle is clear and includes a number of well-written heroes on its way. The game is also enhanced by Iki's points of interest and side quests, which seemed more varied and better distributed than in Tsushima, thus preventing a certain amount of fighting when launching into a particularly important battle.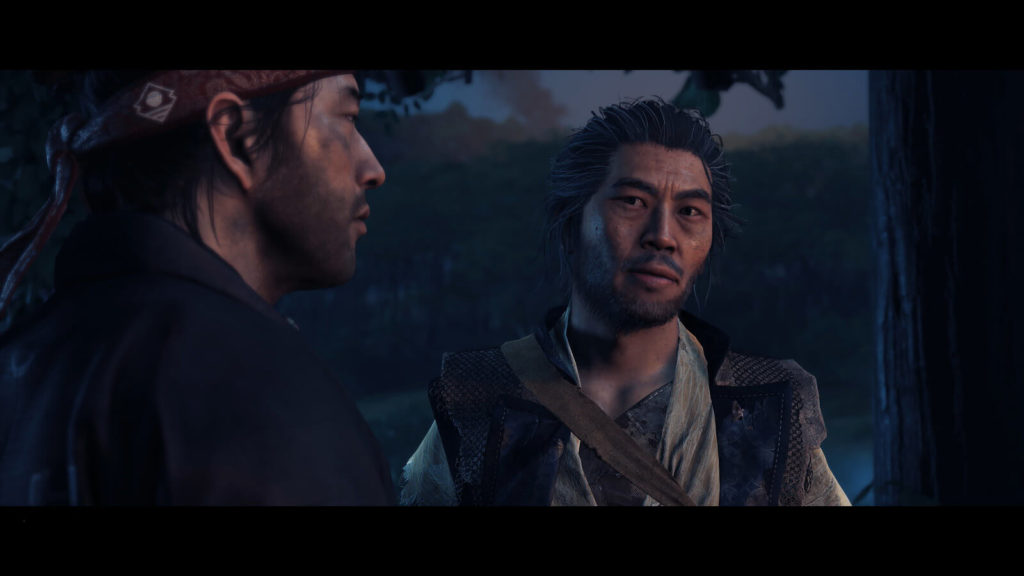 Above all, the story on Iki Island is a perfect complement to the original story. While in Ghost of Tsushima, Jin Sakai plays the role of a heroic warrior – despite his disputable methods – who wants to fight off the Mongol invasion, here the character is considered an invader. The Sakai clan have indeed been harmful to Iki, and its many inhabitants will want to remind him of this, starting with the Eagle, through the visions that she inflicts on the hero. But this delicate position is also felt during the side quests, some of which will pleasantly surprise you by the light they bring to the story, but also with the rewards they offer (we won't tell you more). In short, Iki Island is very coherent and manages to forge its own identity, despite the fact that the environments are very similar to those of Tsushima. However, the environments remain as beautiful as ever, and are always highlighted by a great soundtrack.

Better looking, smoother, faster with the Director's Cut on PS5?

On PlayStation 5, in this Director's Cut, Ghost of Tsushima gets a little graphic upgrade. Jin Sakai's adventures are indeed running in 4K / 60 fps on next-gen, with a significant resolution gain from PS4 Pro to PS5 (the backward compatibility only improved the framerate). It's smoother, more detailed, although the flickering of distant trees and some 3D models are inherited from the old PlayStation era. On a good screen and a PS5, Ghost of Tsushima looks better than ever. The 60 frames per second is also good – it's a pity that the cinematics remains at 30 fps – and allow to better manage the perfect dodges. Moreover, the loading times from the title screen and between quick trips are now much quicker, more than with the backward compatibility, especially to enter the game. On the other hand, you'll still have to wait a few seconds for an armor to appear in the inventory. Finally, let's not forget the next-gen DualSense sensations, on horseback or with a bow, which is an added bonus without being overwhelming. Note also that the Japanese lip-sync is reserved for the PS5 version.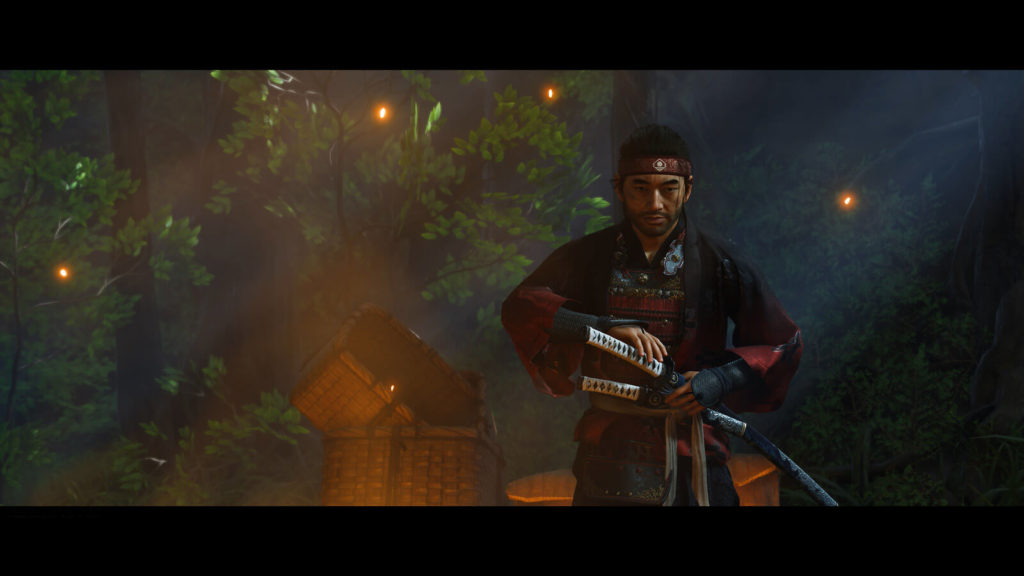 WELCOME NEW FEATURES
This new adventure on Iki Island is accompanied by some new features that really work, and help to see this Director's Cut as a real plus, perfectly embedded in the base game. In addition to new shrines to play a flute tune, bow challenges, a new armor that will motivate you to chain perfect parries and some other nice details, this expanded version of Ghost of Tsushima bring two gameplay elements that stand out: the charging on the horse and the ability to target your enemies during combats (this second new feature will be available in the original title via a free update deployed on August 20, 2021). The charge literally allows you to bowl with your opponents, sending them flying into the scenery in exchange for a little determination, a resource that allows Jin to regain life and use certain techniques. For the time, it is a real pleasure.
As for target locking, a detail we missed in the 2020 Ghost of Tsushima, we have to admit that this lock mechanic fits very well in Sucker Punch's title, as if it had always been there, waiting to be activated. The whole thing then changes the camera to something closer, similar to what we can find in classic one-on-one duels, giving in the process a real directing boost. You'll have to regularly turn off the targeting to see what's going on behind your back, which isn't always practical, since you have to press the "up" button of the directional cross to activate it, making you go back and forth from the left stick which allows you to move. It is of course possible to change the target with the right stick. However, we have the feeling that a trigger would have been better adapted.

Some other small additions:

Sucker Punch studio has added a few other details that will be available on all versions of Ghost of Tsushima, when it updates on August 20, 2021. Starting on that date, in addition to locking down enemies, players will be able to hide their quivers and take advantage of alternative controls, with one configuration reserved for left-handed players and another that places light and heavy attacks at the trigger level.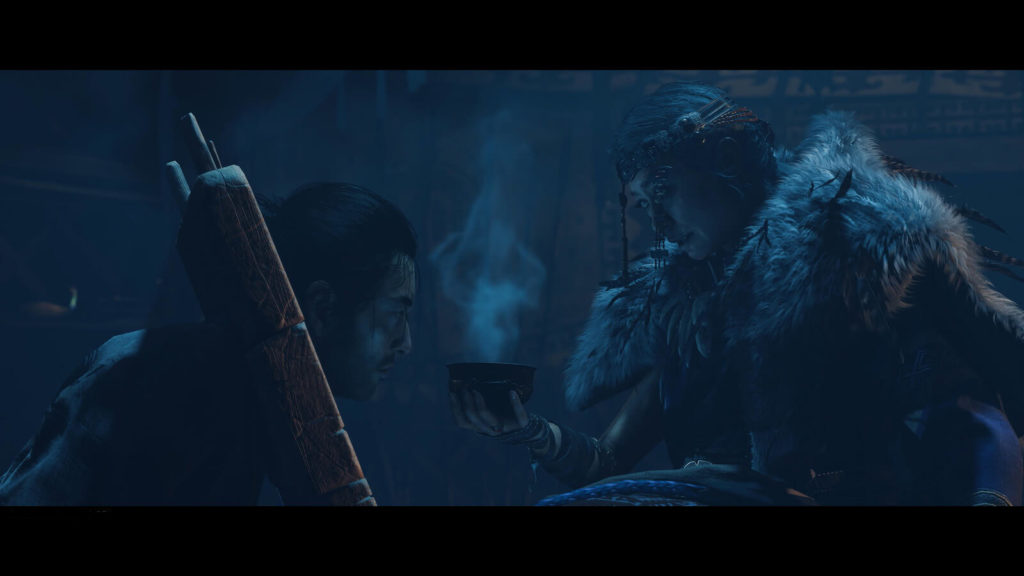 SOME FLAWS THAT WERE QUICKLY FORGOTTEN
While we're on the subject of the small flaws of Ghost of Tsushima: Director's Cut, we must say that we were disappointed by the lack of new enemies. Besides several one-on-one bosses, there is only one new opponent, a kind of shaman with a spear that improves the defense of several of his colleges nearby (killing him will deactivate this protection). This trip to Iki island reminded us of Ghost of Tsushima's poor secondary dialogues, as well as its rough fights, with questionable user interface, as well as those irritating moments when you're looking for your objective because of the lack of information. These are inherent black spots in Ghost of Tsushima, but they don't affect its promise of travel and exploration, which has been enhanced with this edition.
An "ultimate" edition that is even richer in content. Because in addition to the basic adventure – which remains quite gripping despite its flaws and slower pace – and Iki Island, we must not forget the Legends online multiplayer mode of Ghost of Tsushima. A mode that wasn't available at the time of our original test, and that is actually a big plus. The studio has been smart enough to offer a really different experience than the basic game, with a well-designed concept ( a storyteller who tells the legends of the island), an evolution system that is also well designed, and cooperation-oriented mechanics. Thus, the "Stories" – which propose to go through one of these tales with two players – are particularly successful, as well as the four-player raids. The survival mode is a little less successful, because it is too long, but it will be rebalanced on September 3rd. On that date, Legends will also welcome a new game mode, which we didn't have access to. Ghost of Tsushima still has some surprises in store for us.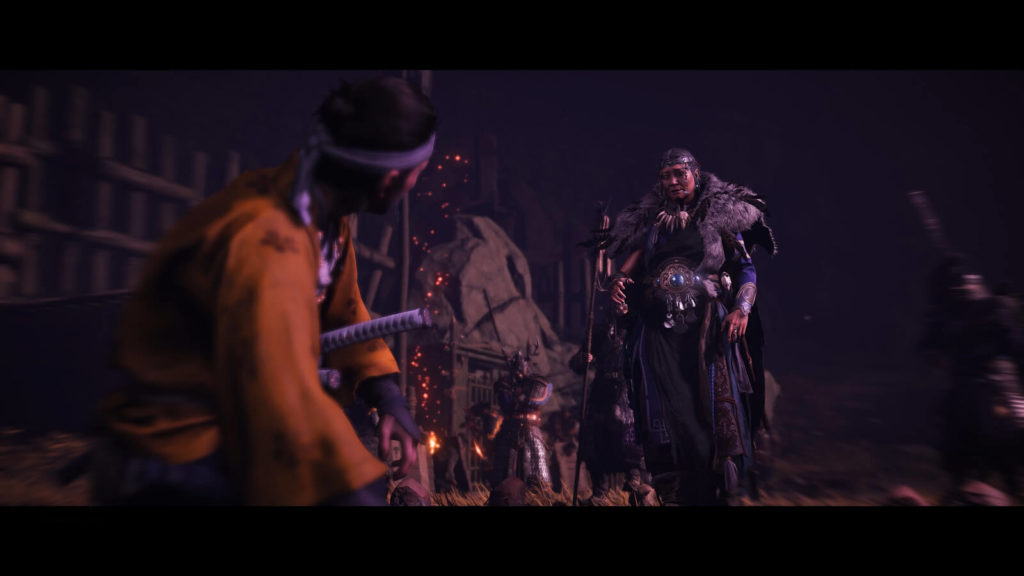 CONCLUSION
Since one year already, Ghost of Tsushima has come a long way. Already with Legends, its online multiplayer mode, and now with this Director's Cut. A new version that keeps its promises. After a basic scenario that suffered from many slowdowns, the story of Iki Island and its new explorable area offers a much more direct narrative than the tracking of Khotun Khan, in addition to bringing an interesting light on the character of Jin Sakai and his past. With many new features along the paths, Iki Island has its own identity, even if its environments are quite similar to those of Tsushima. However, the scenery is still beautiful, especially on PS5, in 4K / 60 frames per second, although the flickering on the horizon and the 3D models are a reminder of the PS4 era. For Ghost of Tsushima does not reinvent itself either, and the flaws of the past are still present. But these little black spots can't overshadow the promise of travel and generosity of Ghost of Tsushima: Director's Cut, especially on PS5. A journey that now approaches excellence.