Release Date : February 10, 2023
Developer(s) : Avalanche Software
Publisher(s) : Warner Bros. Games
Platforms : PS4, PS5, Xbox One, Xbox Series X/S, PC, Stadia, Nintendo Switch
=====================================
Release Date for PS4 and Xbox One will be April 4, 2023 and Nintendo Switch July 25, 2023
Following our first look at Hogwarts Legacy we wondered if this Harry Potter universe game had the potential to be one of the top games of the year, for both fans and non-fans equally. After many hours spent on the game from Avalanche Software and Warner Bros, that's exactly the point of this review. Revelio!
We are in 1890. Hogwarts School of Witchcraft and Wizardry has existed for 900 years and has built a solid reputation in the world of magic. Young wizards are waiting for one thing only: to be able to join. Well, this year, it's your turn! And since you're a little late, you're going to be promoted to the 5th year. This means that you'll have plenty of learning ahead of you. And then you'll have to find your place too, by making new friends.
And if all that wasn't enough, soon you find yourself in the middle of a massive goblin revolution. The evil Ranrok has clearly decided to make the wizards pay for the long years of repression and injustice. And to do so, he is interested in a very special form of magic: ancient magic. And it just so happens that you may be surprisingly connected to this ancient and particularly powerful magic form. The world of wizards' destiny could depend on you. But beware, this is no excuse to neglect your studies. End of the world or not, at the end of the year you will take your bachelor's degree!
MAGIC IN THE AIR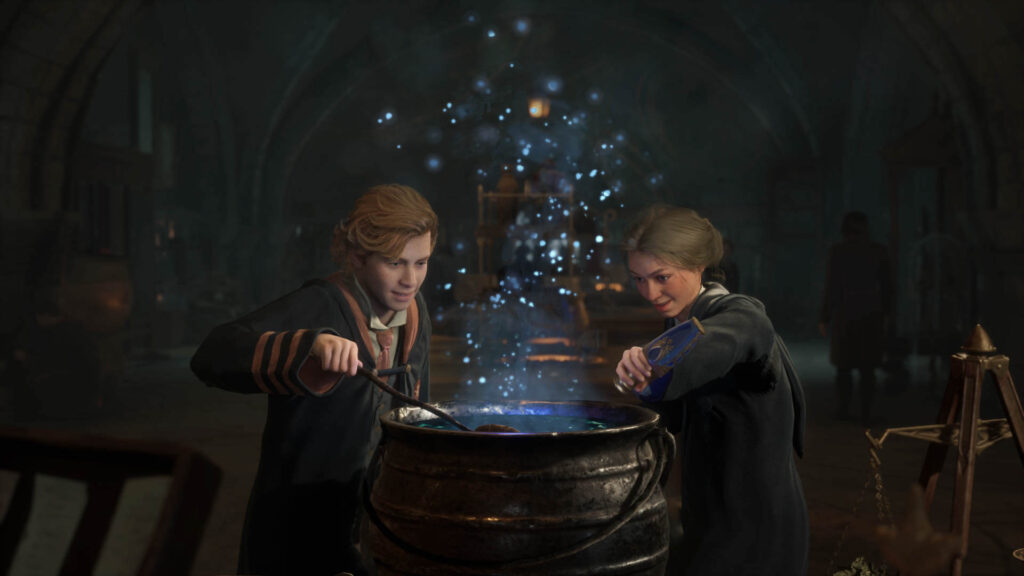 Let's be clear, Hogwarts Legacy is a magical game, in every sense of the word. And this magic is not only due to its universe but also to its art direction. It's simple, the game is beautiful. The castle reproduction will make your eyes shine and the Scottish Highlands are a real call to adventure. Whether you're on the ground, on your Graphorn, or flying around on your broom, it's a pleasure to discover its villages and landscapes straight out of a different era.
But when it comes to art direction in Hogwarts Legacy, it's the castle's interiors that are most impressive. Let's not be afraid to say it's breathtaking. Every room, every entrance, and every hallway has something different about it. It's a real pleasure to explore, especially since the castle is full of all kinds of magical secrets. Even though the castle is very large, you can always find your way around thanks to the map, which is surprisingly well-designed. You could get lost for hours without ever seeing the time pass. Especially since the corridors are, against all expectations, quite vibrant, with many interactions. So you are hardly bored at Hogwarts.
And this observation is true for the whole game. You want to explore everything, all the time, to dig up all the secrets, to get all the pages of the wizard's guide, to go in search of secret passages, to solve all the riddles… There are so many things to do and that gives Hogwarts Legacy a significant lifespan if you allow yourself to ramble. Indeed, the main quest will "only" last twenty to thirty hours if you follow it in one go. But Hogwarts Legacy is clearly a game that can be enjoyed by picking up a side quest here, a puzzle there etc. Especially since this side content is really interesting to discover. Most of the side quests allow you to give consistency to the universe or discover secrets everywhere. And if you want to do everything, you can easily double the life span, at least.
Another important point: the writing. As mentioned, Hogwarts Legacy offers many quests to build the game's universe. They also allow you to discover all sorts of colorful characters, who are particularly well-written. Some of the students are charming, and others are annoying. You'll have your favorite teachers for sure and some merchants, wizards, and other goblins who might really leave their mark on you. We find the spirit of the Harry Potter universe with characters as coherent as atypical, some nice humor points and some epic moments. Same for the story which is very pleasant to follow, although predictable, not always subtle, and with few inconsistencies. As far as the story is concerned, we are clearly below God of War for example. It also leaves some gaps, but this is not a bad thing and allows each player to build his own story in his head. The magic trick remains successful: the immersion is total and we really believe in it.
MORE THAN JUST A HARRY POTTER GAME?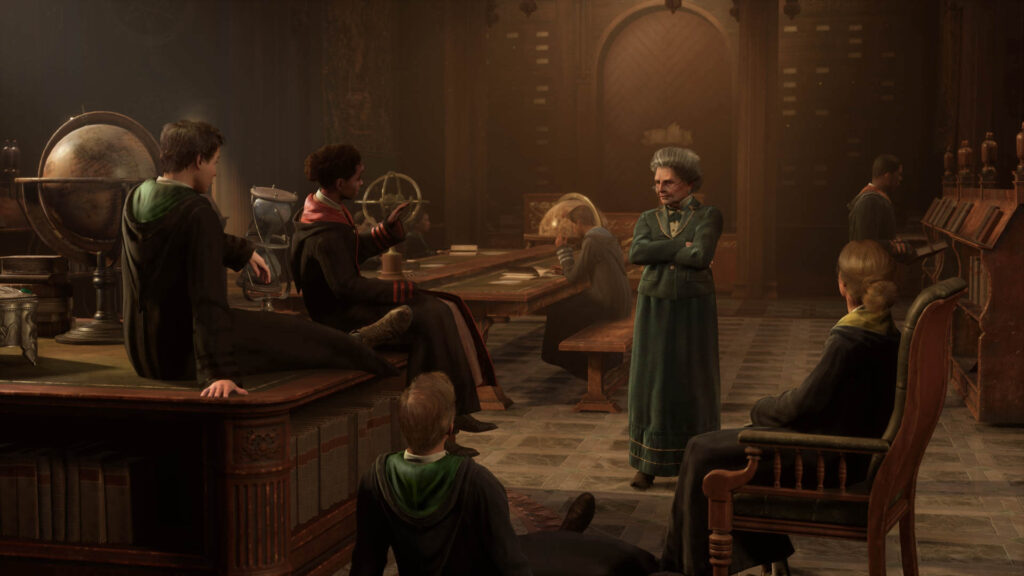 With licensed games, we often find ourselves with a particular case: the game becomes immediately worthless if we remove its fan-service layers. Typically, some Harry Potter games are not very good and become so mainly thanks to the adaptation/nostalgia side and the numerous references. And this is where Hogwarts Legacy stands out: it is not just a game made for Harry Potter fans.
So yes, there are some winks, but they are well thought out enough to delight the fans without leaving the newcomers behind. As proof, my editor discovered a new passion for the universe after playing the game. And the reason is simple: Hogwarts Legacy is a great game, which not only offers a truly magical universe but also mechanics that are both advanced and interesting. We will explain it to you!
First, there are the battles. Although the first few minutes of combat are a bit tedious, it's a lot of fun as soon as you start to get the hang of it. Between the spells, the possible sequences, some specific attacks for certain enemies, the defensive barriers, the interactions with the scenery, the counters, and the use of potions/plants, there are many things to consider and this makes the fights both complex and exciting.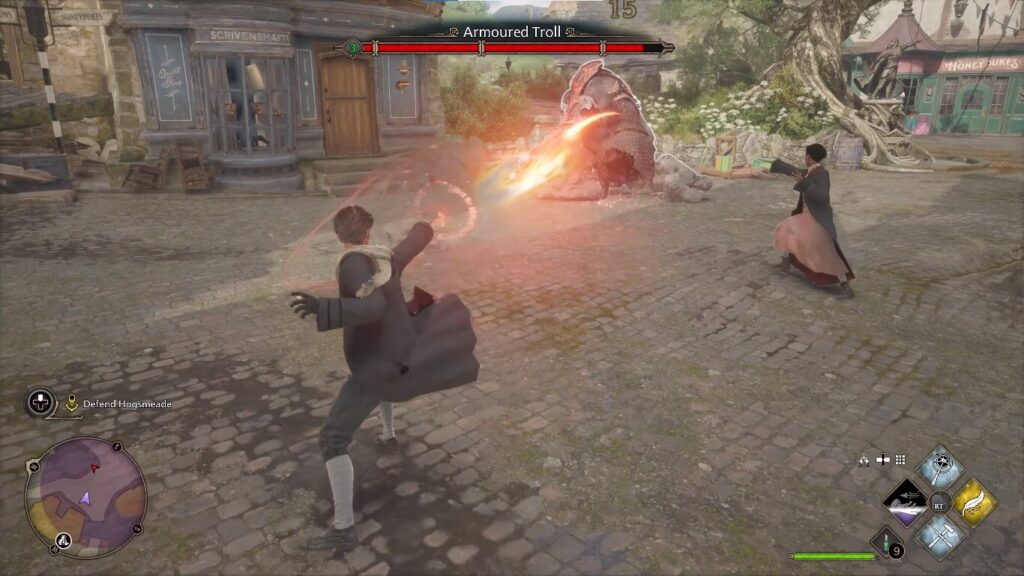 Avalanche Software has found the right balance to offer us battles that are as pleasant to look at (although a bit busy on the screen) as they are fast-paced. The AI is correct, the sense of progression is present and you can even sprinkle in a few challenges to avoid redundancy. The only downsides are the targeting, which is sometimes a bit messy, and the lack of diversity in the bestiary, despite the fact that the universe is pretty well supplied. In general, it's better to be totally concentrated, otherwise, you'll quickly get lost and be overwhelmed.
But we can easily forgive these few shortcomings as the game is full of excellent ideas that sometimes diversify the fights, or deeply change the game experience. Hogwarts Legacy is a constantly evolving title that makes you discover new possibilities, each one more satisfying than the other. Once again, the adventure is quite balanced and regularly alternates between courses, epic adventures, and moments of discovery. From flying to learning spells, the title is full of smart and efficient features. It's smart and almost always fun to play.
As if fighting, solving puzzles, and exploring weren't enough, there's also the Room of Requirement. This one adds even more diversity to the experience by offering you resource gathering, equipment crafting, and magical creature breeding. This gives Hogwarts Legacy a solid foundation of action games with some role-playing notions and offers something for all types of players.
And on top of that, it is possible to customize the walls, the ceiling, the livestock, the decoration, the atmosphere… It is sometimes a bit tricky but it will be enough to delight fans of customization of any kind. And by the way, it's important to remember that the character creation tool is also particularly complete and even quite inclusive. This appeal for customization goes hand in hand with the developers' promise to allow everyone to live their own adventure. Even if this promise has big limits…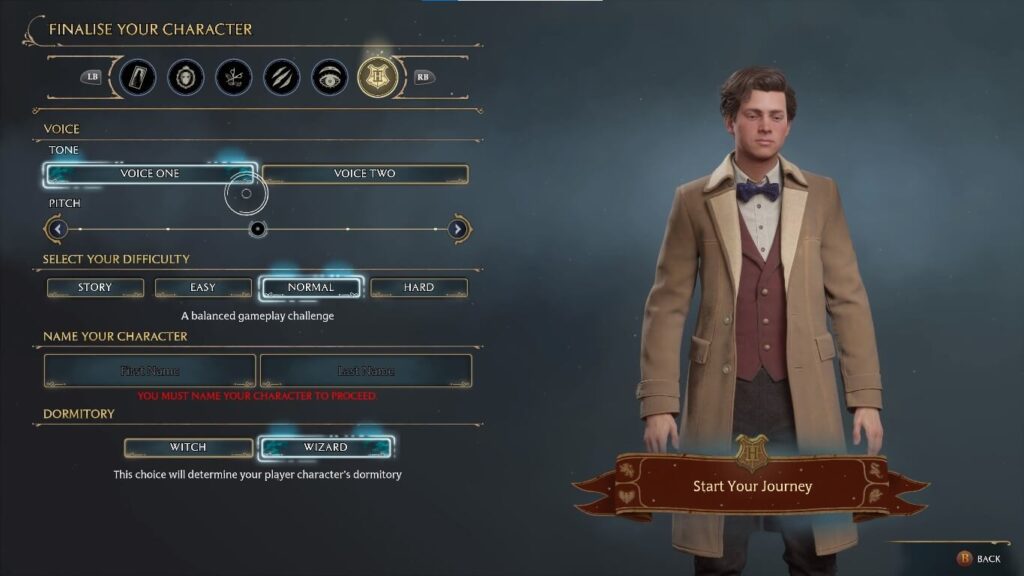 Accessible or not?

As we said before, Hogwarts Legacy is quite inclusive in the customization, but not only! From the beginning, it is possible to set a number of accessibility options. Moreover, the game is also accessible in terms of difficulty. There are four difficulty modes (Story, Easy, Normal and Hard). The first two provide in-game guidance so you don't get lost. The last two offer an experience for more experienced players. However, the game is not very hard on its own, but rather very punishing. Even in hard mode, it will not be a big challenge for the "try harder" gamers.
A POTENTIAL GAME OF THE YEAR?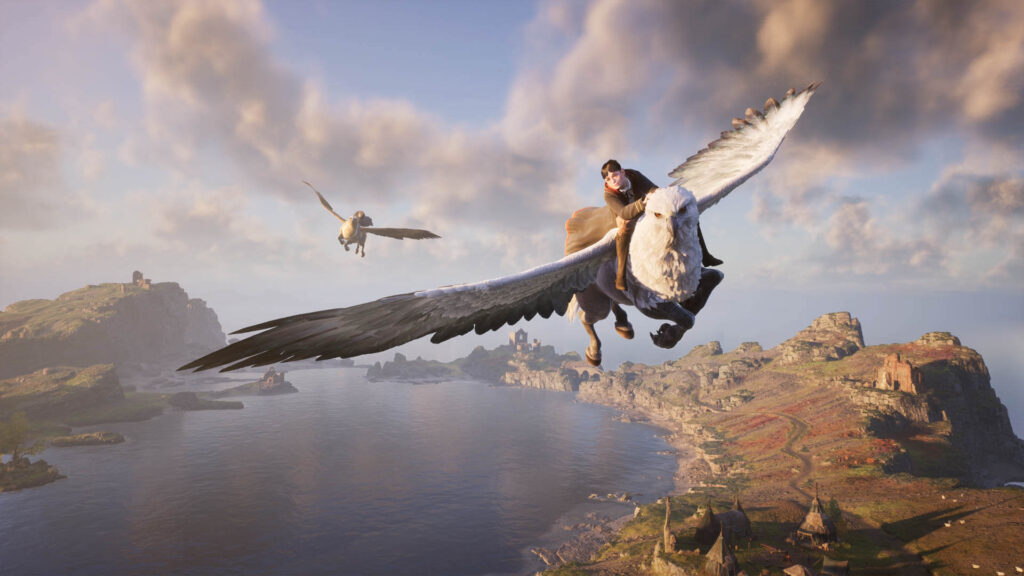 During our interview with the developers, we felt that the idea was to allow players to adjust their adventures according to their desires, and therefore their choices are supposed to "impact the outcome of the story". And among these important choices, there is the fact of learning the Unforgivable Spells or not. As soon as it was announced, this possibility was debated. The developers have indeed chosen to tackle one of the biggest taboos in the world of wizards, and inevitably it poses major concerns of consistency.
However, the use of these spells strikes a good balance between what the lore dictates and the game's needs. On the other hand, learning these spells and using them will have no impact on the course of your story. In general, the choices only generate a few different scenes and never really affect the story's outcome.
Hogwarts Legacy wants to take you somewhere and it will do so in every case. That's a detail for some but important information for others. If you are expecting to have a different adventure depending on the choices you make, you will be disappointed on this point. If you take the game for what it is, meaning a great action game in a fantasy universe, you will have a magical time.
Avalanche Software's production is quite impressive. The studio holds by far its best product and succeeded in this risky bet. Still, sometimes we feel the lack of experience of the studio on this kind of AAA. It lacks a bit of refinement and it can be noticed at certain moments. The animations are sometimes a bit stiff, there are some loading times and some collision bugs and there are some problems with the textures.
But overall, it did not spoil the fun. The game runs quite well and we rarely had framerate drops (but there were a few, especially in the castle…), either in Fidelity mode (better resolution but in 30FPS) or in Performance mode (60FPS). For your information, three other modes exist: Fidelity with Ray Tracing for all screens and, for recent high-end models only, the Balanced and Performance HFR modes.
We could also mention the lack of risk-taking in the management of the open world. It is often possible to feel a little bit of Assassin's Creed atmosphere when playing Hogwarts Legacy. This wasn't a bad thing, but it's far from a radical proposal like Elden Ring or The Legend of Zelda: Breath of the Wild, even if the developers were able to surprise us with some amazing proposals. Overall, Hogwarts Legacy doesn't reinvent the wheel, but it still provides a solid and rich adventure that is already one of the must-play games of this year 2023, and a potential GOTY candidate.
CONCLUSION
What an adventure! Hogwarts Legacy is definitely the game that all Harry Potter fans have been waiting for. Beautiful, dynamic, challenging, and exciting, it's full of passion and magic and is a real pleasure to play. But that's not all! With its brilliant ideas, its world demanding to be explored, its amazing art direction, and its magical and engaging combat system, it is simply an excellent action-adventure game. We would have liked choices with more impact or a proposal a little far from the usual. As you can see, there are many things to say about Hogwarts Legacy. But to leave you with something to wonder about, we'll let you discover the magic of this game that will clearly mark the year 2023. And, who knows, it might be a good candidate for the GOTY…