Release Date : March 18, 2022 (PC) | November 15, 2022 (PlayStation 5, Xbox Series X|S)
Developers : Microïds
Publisher : Microïds
Platforms : PS5, Xbox Series X/S, PC
Making a sequel to a series that had completed its scenario more than a decade ago was a risky bet. Benoît Sokal and Microids tried it with Syberia 3, an opus faded by its technique that didn't leave lasting memories to the franchise's fans. The French developers, supported by Koalabs, are trying to restore its image with a last adventure.
Twenty years after the very first episode, it is time to say goodbye to Kate Walker and her faithful companion Oscar. The last work signed by the late Benoît Sokal, Syberia The World Before allows the flagship license of point & click to find its charm of the past in a final adventure that erases all the defects of the third episode, or almost. After several months of work, Microids' teams finally deliver the PS5 and Xbox Series versions just in time for the end-of-the-year holidays. A worthy update?
A LAST BEAUTIFUL JOURNEY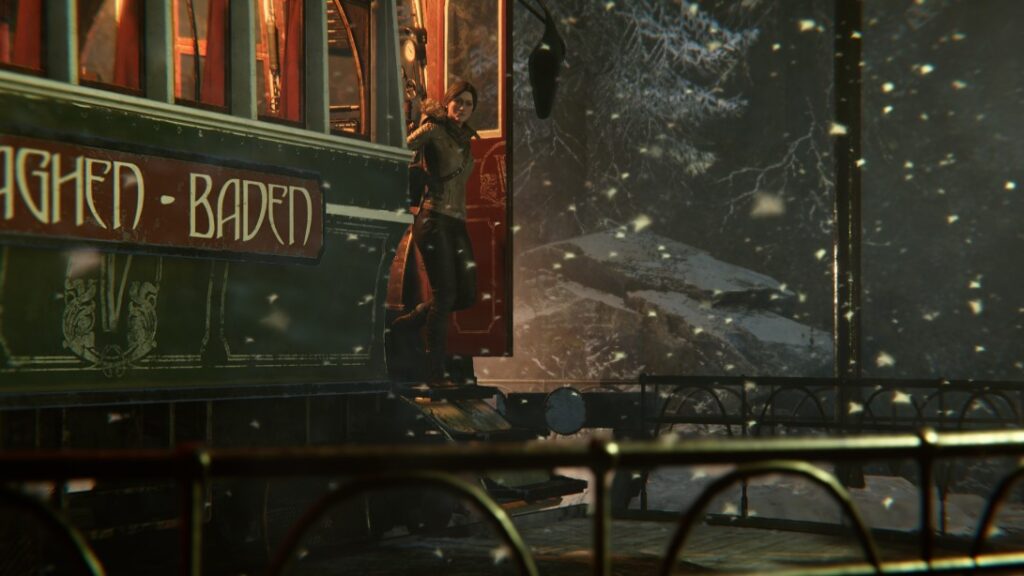 Vaghen, 1937. Dana Roze, a 17-year-old pianist living in a fictional city full of robots, carelessly prepares to enter the capital's music academy. In the fictional world of Syberia, this date is a harbinger of drama initiated by the Brown Shadow, a national socialist political movement, equivalent to the Nazis in our world. This young woman, Kate Walker, will find herself portrayed in a pre-war portrait found deep in the salt mines where she is a prisoner in 2004.
Escaping from her jail, the former lawyer eager for adventure will try to discover who is the one who looks like her and learn more about her destiny. Syberia The World Before is a follow-up of the 3rd episode and it is, therefore, essential to be familiar with Kate's history to be able to comprehend the details of this episode. Microids has created a recap in the game's menu. A useful option, as it is important to learn about past events to better understand the heroine's psychology, which is quite touching.
Syberia The World Before can still be approached smoothly by newcomers because of its very different structure. The game is a journey between continents, but especially between times. We will alternate between the two women to try to understand the links that unite them and discover the tragic events that will change Dana's life forever. The title gives us a more striking and well-written story, despite some clumsiness and easinesses, with a heavy and sad narration that catches the player in its story.
The double temporality unfolds the story in an intelligent way, making a scenario that could have been ordinary and captivating. More than its purpose, it also serves to solve puzzles, a key point in the game. Fans of old-fashioned point'n click will be satisfied. Time travel makes it easier to solve some puzzles, brilliantly using the heroines' point of view to hide clues here and there. As clear as anything, some puzzles will require a little more thought without ever being very complex. Everything makes sense, everything is well connected.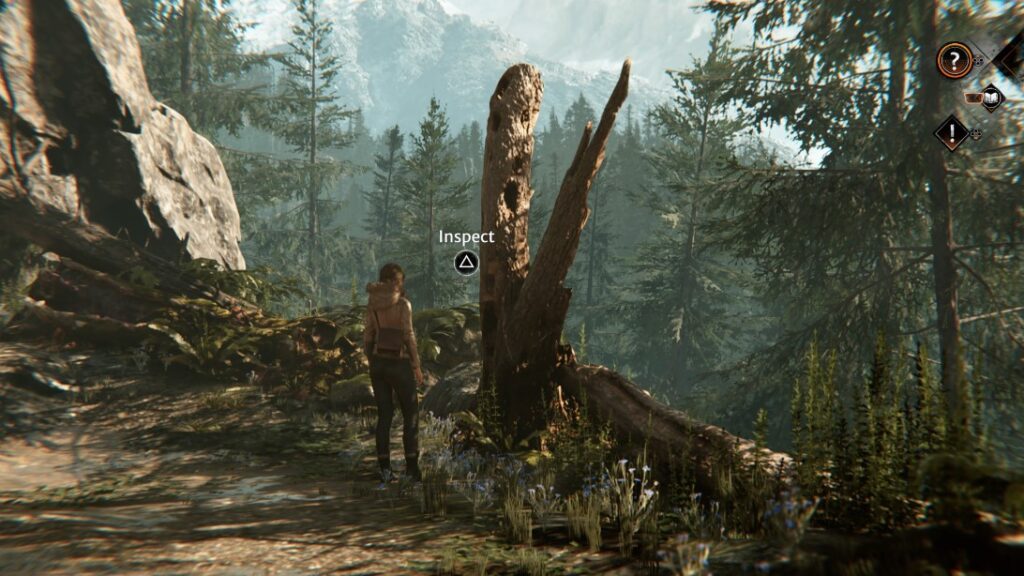 Syberia The World Before calls more on your sense of observation than your pure logic. Some will argue that the difficulty takes a big hit, but these puzzles ultimately give more of a sense of unsuspected satisfaction than any frustration. The PS5 version will however undermine some of the best aspects of Syberia The World Before at times.
AND THE CONSOLE VERSION ?
Let's face it, this next-gen version is more than honest, but still imperfect. It inherits the flaws from the original version, such as invisible walls, random camera problems, some awkward character movement, ugly textures, visual bugs, clipping, and facial animations that are far from the current standards. We are a thousand miles away from Syberia 3, but the PS5 version brings some additional optimization aspects. The camera angle changes are even more abrupt and this is without counting the disconcerting framerate drops in Vaghen, where it jerks violently, or even during the puzzles.
However, the city is magnificent, with a masterful art direction and inspired lighting that enhances this universe so characteristic of Sokal, but these few problems can break the immersion at times. Nothing prevents us from stopping to admire the beautiful environments during the two periods, where the architecture, the new art, and the steampunk atmosphere work wonders. It's visually successful, but again don't expect graphics close to current productions. The PS5 and Xbox Series versions of Syberia The World Before must obviously be played with the controller. No big surprises since the game was already compatible with the pad when it was released, but the controls adapt as well as possible despite some concerns about intuitiveness at times.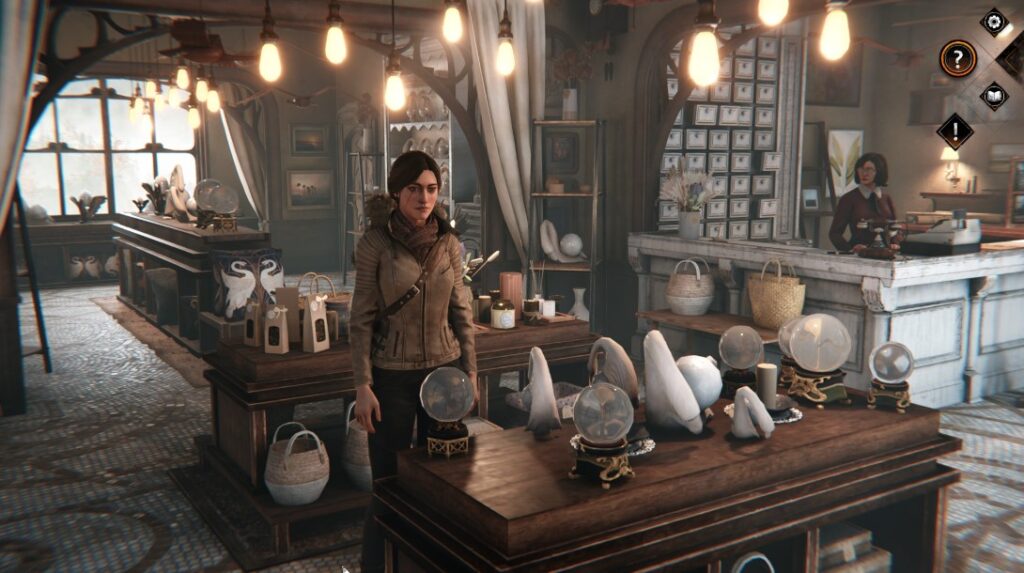 The management of the left joystick and its movement seems rather random. Sometimes good, sometimes bad, it is confusing at first, but you get used to it in the end. The main regret is the lack of options to adjust the sensitivity of the cursor, which could have made some puzzles a little less complex than they are. The DualSense is also implemented with a haptic feedback used slightly when moving in a trolley, in a forest, or during some actions in puzzles. Nothing really revolutionary or immersive.
CONCLUSION
Syberia The World Before is a nice conclusion to the saga of Benoît Sokal. With a sublime art direction, a captivating universe, and an episode that erases all the flaws of the much-criticized Syberia 3, Microids delivers a last successful tribute to one of the monuments of point'n click. Its touching story, its engaging heroines, its mastered narration, and its oh-so-satisfying puzzles keep you on the edge of your seat for about ten hours. An interesting and engaging adventure that is a pleasure to go through despite some clumsiness at some points. The PS5 and Xbox Series versions nevertheless inherit some technical flaws and bring ugly framerate drops that sometimes spoil beautiful scenes. A pleasant version to play, despite a couple of glitches.