Release Date : January 28, 2022
Developers : Naughty Dog
Publisher : Sony Interactive Entertainment
Platforms : PS5, PC
During the period, which is often longer than expected, following the release of a new generation of consoles, there are a lot of product updates from one collection to the next. Uncharted 4 and its stand-alone DLC, Lost Legacy, are therefore getting a combined edition of the two titles this year, bringing with it new performance options that can, apparently, exploit the power of the PS5. Is the investment worth it?
WHICH GAME FOR WHICH PRICE?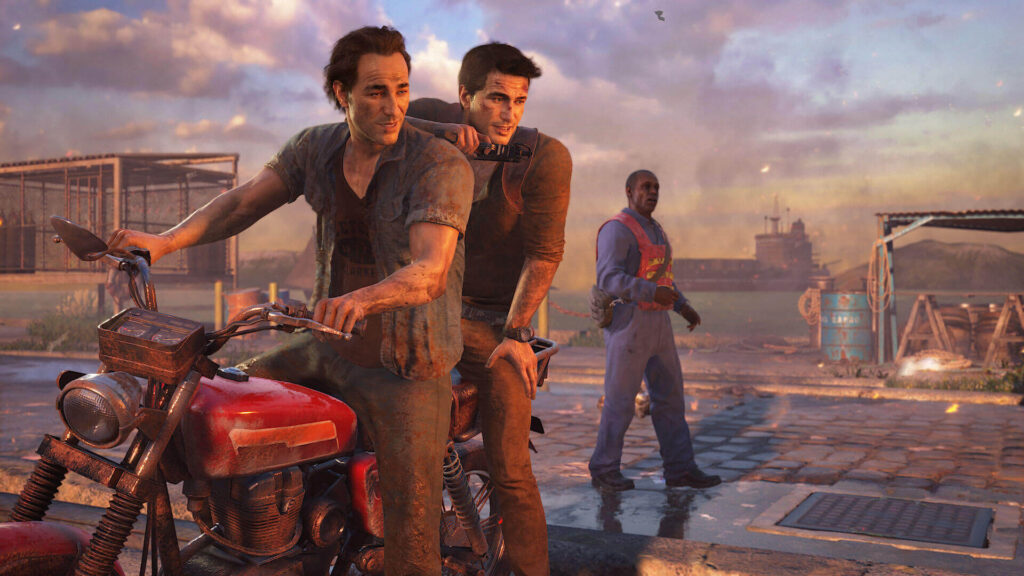 Before we go any further, let's talk pricing. If you don't own Uncharted 4: A Thief's End or the standalone Uncharted: The Lost Legacy, you'll have to pay 49,99$ to get this edition. However, if you already own one of the two games on PS4, the upgrade to the PS5 version will cost you 10$. Note that if you have the physical versions of the games, you will have to use the physical CD to play the PS5 update. It remains to be seen what this Uncharted: Legacy of Thieves Collection has in store.
A REAL PERFORMANCE BOOST?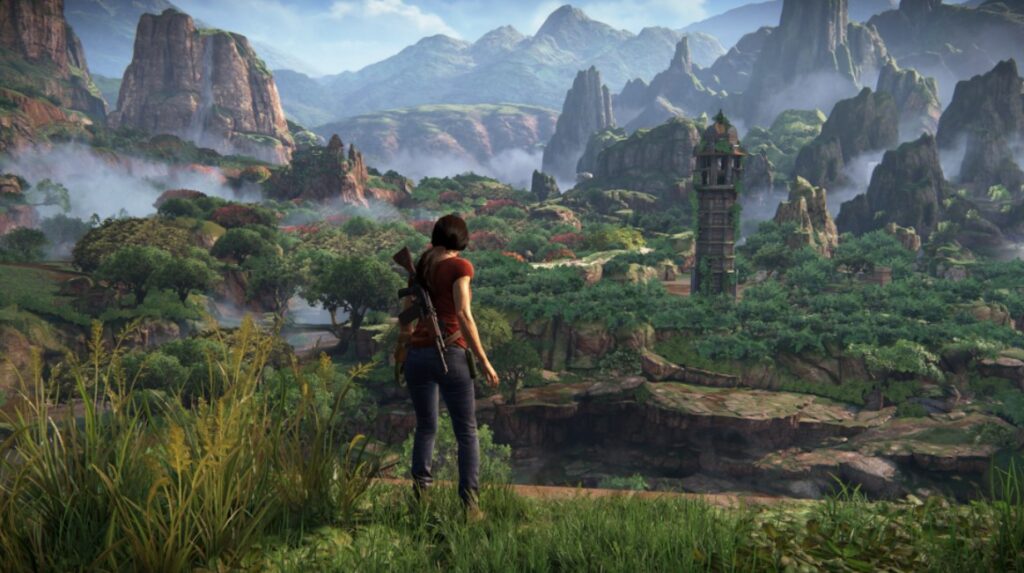 As you'd expect, it's all about performance. If you activate the Fidelity mode, you'll be able to play in 4k / 30FPS. Performance mode allows you to reach 60 frames per second and enjoy a 4k display upscaled to 1440p resolution. Finally, if you have a compatible screen, the performance mode+ offers the possibility to play on a 120hz TV with a 1080p display. As for the fidelity mode, the 30 fps is sometimes inconsistent in some specific places, which is surprising when you know that the title is still 6 years old. It is therefore recommended to opt for the performance mode, which ensures an excellent rendering and a smooth experience. The upscaling technique works very well and its implementation on the screen is almost similar to the fidelity mode, while ensuring a constant 60 fps regardless of the game situation.
However, we have to admit that, overall, Uncharted 4 has aged a bit. Of course, it's hard to avoid admiring some of the superb and inspired landscapes, or some of the lighting effects that are still relevant today, but some of the animations and facial expressions seem a bit outdated by today's standards. Since the release of Uncharted 4, Red Dead Redemption II, God of War (2018) or The Last of Us Part II have been released on the PS4, and if, of course, their release was far from Uncharted 4, these productions have set new standards that are hard to forget. The boost offered by the PS5 is quite minimal and even if the Uncharted games included in this collection are indeed very beautiful, the weight of years is slowly starting to be felt. But you don't have to spoil your pleasure, you won't feel like you're taking part in an old-fashioned adventure when you take the controls of Nathan Drake or Chloe Frazer.
GAMES AS PLEASANT AS EVER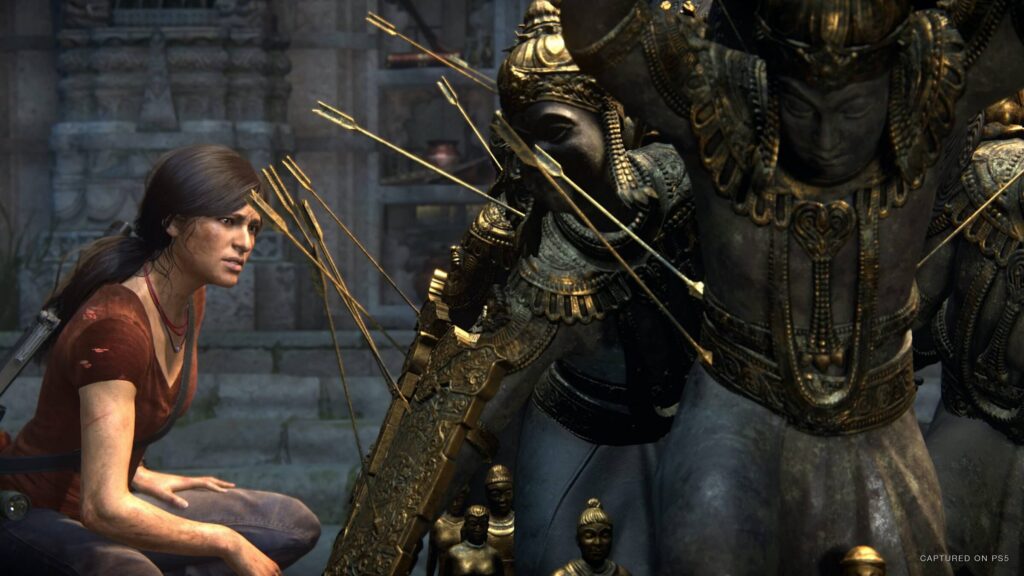 As far as gameplay is concerned, things have not changed a bit since 2016. You will always find this cocktail of action, adventure, puzzles, and shootings that characterize the franchise and the whole thing still works as well as it did 6 years ago. So we may have a tendency to complain even more about some remote-controlled jumps, not always an ideal appreciation of distances or artificial intelligence that is still quite random in the infiltration phases, but it doesn't matter: Uncharted 4 and its stand-alone are still extremely pleasant games to play. Particularly dynamic, the two games know how to alternate between exciting, dramatic, and narrative sequences, to keep the player's interest constant. Note also that this PS5 version takes into account the DualSense features, even if in reality, the difference is not particularly remarkable. As for the content, the collection does not disappoint: count on 15 hours for the basic game and 6-8 hours for Lost Legacy. That's enough to keep you busy and entertained thanks to these games which don't pretend to be anything else than what they are: action and adventure games with a popcorn feel, and with a much more refined script than the three previous episodes. On the other hand, and unfortunately predictable, the multiplayer mode has not found a place in this collection, which many will probably be disappointed about.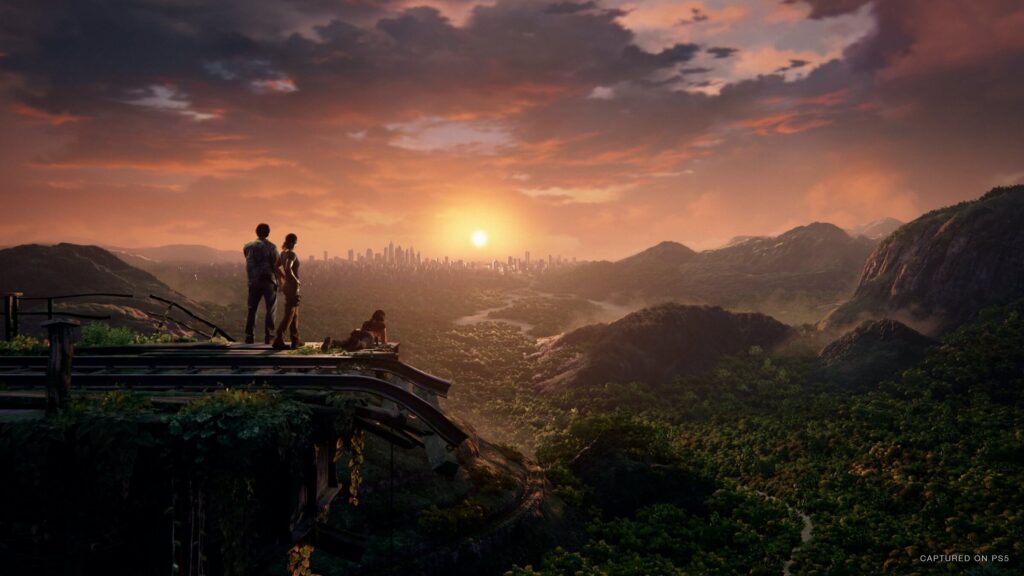 CONCLUSION
Arriving for the PS5, Uncharted 4 A Thief's End, and The Lost Legacy are not necessarily enhanced. Both remain the excellent action/adventure games they were back in the day, still offering spectacular moments and more touching sequences, serving up dynamic experiences that are still a pleasure to play. That being said, the performance boost offered by the PS5 remains pretty marginal, and unless you're an ultimate fan of the franchise and frames per second are a requirement for playing your favorite game, it's not a worthwhile investment, especially since 4K/30 FPS sometimes struggles to keep up. That said, the performance mode does its job very well and ensures 60 fps in optimal conditions thanks to an efficient upscaling technique. So, if you want to discover the adventures of Chloe Frazer and Nathan Drake for the first time, or if you want to play this franchise in a more fluid way, this collection is still enjoyable enough to consider acquiring it.