Release Date : 30 September 2022
Developers : EA Vancouver, EA Romania
Publisher : EA Sports
Platforms : PS4, PS5, Xbox One, Xbox Series X/S, PC, Stadia, Nintendo Switch
We've been waiting for it, FIFA 23 is finally here! With several new features that work well, is FIFA 23 the most complete football game ever made? One thing is for sure, we are getting very close…
FIFA 22 wanted to be ambitious but was not really convincing. Without ever finding its place in the middle of this whole saga, FIFA 22 didn't manage to stand out from the crowd. And yet, everything was in place for it to be one of the best. With hyper motion and a more dynamic interface, EA Sports had bet a lot on this new gameplay. Although we felt the differences with FIFA 21, they were still too small to really talk about a revolution in virtual football. But this year, FIFA 23 arrives on our consoles and steals the show from its big brother. EA has made up for it and offers a game that lives up to our expectations. So let's put FIFA 22 away and let FIFA23 take over.
A FRESH DUO
You won't be disturbed by the interface which remains the same, only the colors change. With the controller in your hands, it's time to start playing. After a previous episode rather disappointing in terms of new features, this latest FIFA Edition is really innovative. The game is getting closer and closer to what players are looking for. It's impossible to start this test without talking about this fresh wind concerning the commentaries of the game, in French. Forget Hervé Mathoux and let yourself be carried by Benjamin Da Silva accompanied by Omar da Fonseca.
The duo works well and it is very pleasant to hear the singing accent of the Argentine during the games. A small plus when you play with Argentina or Paris Saint-Germain, his comments around Lionel Messi are pleasant. This new duo of commentators is good. Omar da Fonseca is more in the background but manages well his role as a consultant to leave the field to his colleague Benjamin Da Silva. More emotions in the speech, we almost believe to be in front of a real meeting! The old comments of Hervé Mathoux began to crackle a little. Even if we still lack a bit of naturalness in some words, the chemistry of the duo takes like on TV and the comments participate in the revival of this new FIFA.
LAYING DOWN THE GAME
From the first seconds, we notice that the players are slower than in FIFA 22. A less pronounced speed leaves us more room to develop a technical and more realistic game. But also and above all, we feel the upgrade between the attack and defense. With real defensive phases and more elegant tackles, FIFA 23 offers us a better experience. Finally, there is an interest to defend! The fast players like Mbappé, Vinicius, or Adama Traore do not put us in the wind immediately, accelerations are gradually increased.
This gives us time to build our defense. But, as usual, we need a little black spot in the middle of all this. This year, it's the powerful shots. Nothing will stop those shots, even if you have a legendary goalkeeper. However, there's nothing to stop us from hoping that EA will make an update that turns everything upside down.
Unlike the previous game, FIFA 23 handles its hyper motion better and it shows. The pitch is closer to those we see in stadiums with the traces after a foul or a celebration. There are also new animations during the game. The replays in particular. When there is a goal, you can see the percentage of chances as well as the degree of the angle of the goal. In some cases, you can even see the distance from which you scored. This data is interesting and a real plus.
Everything is done to make you feel like you're in front of your TV during a nice Liverpool – Manchester City game. The set-pieces change their face! All of them, without exception. We come back behind the shooter for free kicks, same thing for corners that we shoot from the post. To know where to aim, the round target disappears and is replaced by a white line. As for penalties, goodbye to the round target and hello to the small precision circle. A circle around the ball gives us the indication to shoot. If it's red, it's not good, if it's green, it's time! It will probably take you a while to get used to it, but don't panic, it's not that complicated.
ULTIMATE TEAM EVOLVES, MOMENTS AND NEW LICENSES ARRIVE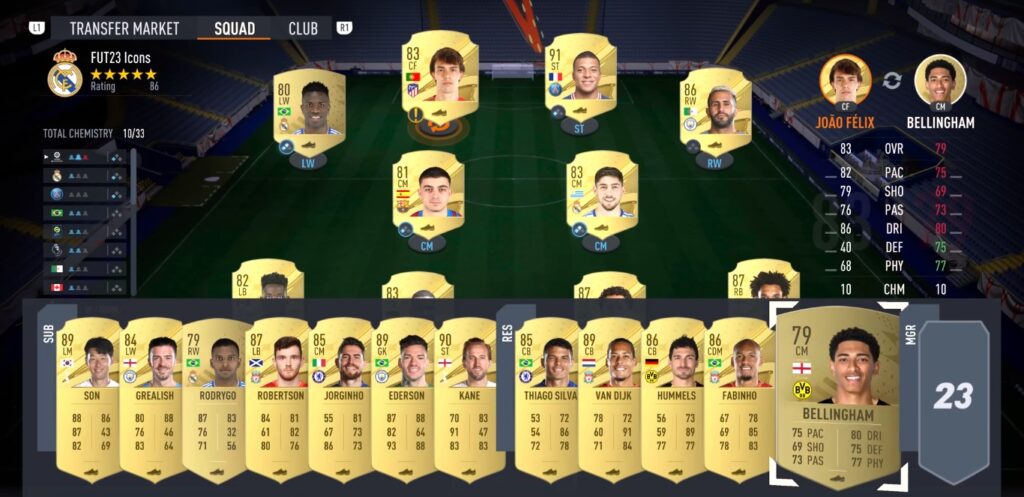 In short, let's talk about the game! Let's start with the most important game mode of FIFA: FUT. Ultimate Team sees several elements change. Starting with the team's collective. Forget everything you know, the green links and the notes, EA has revised its system. Indeed, from now on, it is enough that several players from the same club/nation or the same championship are in your team for the collective to increase.
To make it simple: if you have a defender and a striker from RB Leipzig plus a goalkeeper from Bundesliga, your collective will increase, even if the players are on opposite sides of the field. A real revolution since it was sometimes a bit of a headache to find the nugget that would connect certain positions (especially for the SBC). Position change cards are now unique, no need to buy an RB-> RWB anymore. This comes with the positions assigned to certain players. We could see players with not one but two or even three positions sometimes. Marquinhos, for example, has a card to play CB but can become CDM. When you give him a "change of position" card, he will automatically become CDM.
So it's a whole system that is revised and much better optimized. On the other hand, the prices of the shift changes are… high. Less headache, this way of seeing the collective allows us to really create our ultimate team, as the game mode wants. We feel that the old collective system is well anchored in the heads since the teams we played against are still based on it. A habit that will be difficult to break!
The big news is obviously the arrival of "Moments". The goal? Collect stars to open packs and especially to go to the quest's end. Moreover, several adventures will be available. For the quest "Rise of Mbappé", you will have to play with the French international: don't worry, you don't need to spend all your credits to buy him, there is a possibility to get him on loan. From there, you will have several challenges to complete.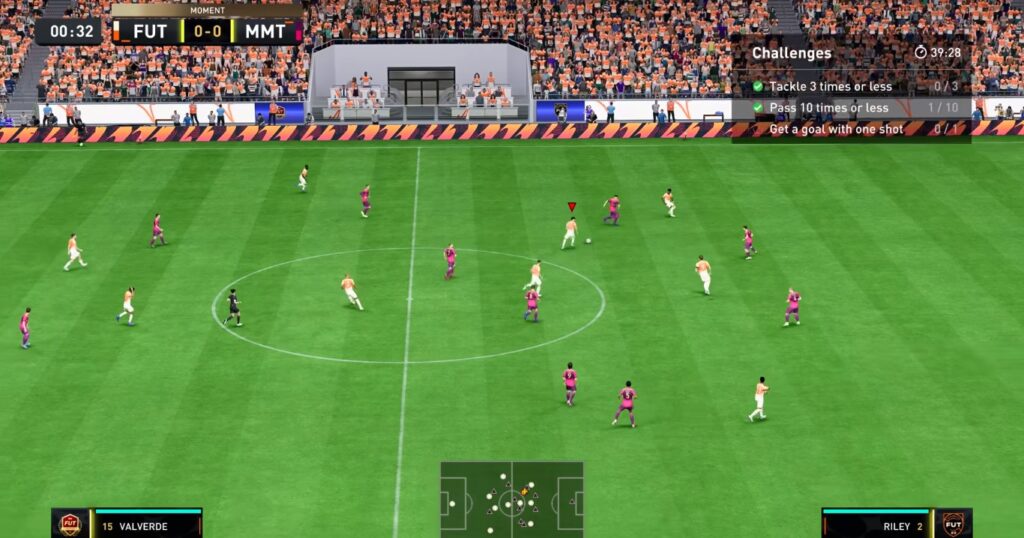 Easy challenges where you will play against the computer. From the beginning of Mbappé's career until now, you will go through several stages. Moreover, in each challenge you have tips to complete it. A simple and pleasant mode. Even if you don't play a lot, you don't need to have a high level to have fun. You can play as an amateur and increase the level over time. Of course, the higher the level, the more stars you can win. Be careful to meet all the criteria during your challenges! Especially since some of these challenges will not last the time of an encounter and are therefore shortened.
For example, you will have 10 minutes to complete 10 passes on the ground without losing the ball. Once the challenge is completed, the game stops and you can move on to the next one. It's as simple as that! Now you own a star. Fast and fun, Moments is a success. This quest offers a real interest for the most seasoned players but also for most beginners. It's a good start for this already complete mode that will seduce you.
Finally: the women's teams are modeled. And that's a great advance, both for FIFA and for women's football. Alongside Kylian Mbappé as the headliner, we find Sam Kerr, the star striker of Chelsea. But EA did not stop there and wanted to push further by refining the features of the players' faces as well as their playing styles. The first French and English divisions are complete with 4 to 5 players modeled per club. Even in the smallest clubs! A big step forward which is good. However, we have a problem with the limited competition. Indeed, there is no Champions League available, so we quickly go around in circles.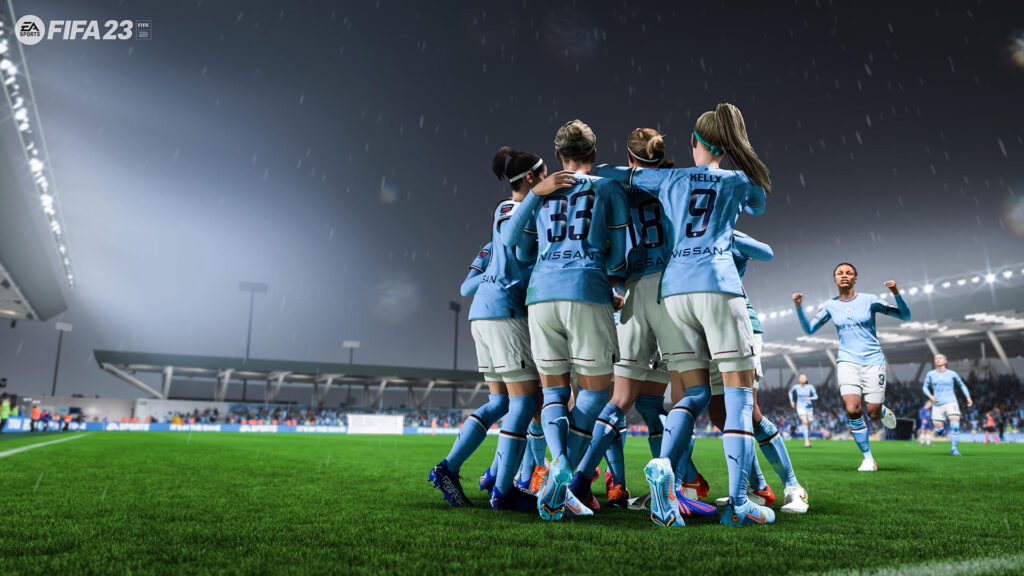 With the 2022 World Cup approaching fast, nations appear. Finally! Cameroon, Morocco, Tunisia, Croatia, Ghana, and Senegal are coming and enlarging the catalog of selections. It was about time. FIFA is getting up to date and promises to offer us an even more complete World Cup mode. As for the Serie A, only Juventus F.C returns under its real identity. Other Italian clubs are missing, so you'll have to deal with different names, as in FIFA 22.
A COMPLETE CAREER, AN EFFECTIVE CROSS-PLAY
The career has changed too. For our greatest pleasure! With all these changes, we will soon be able to replace Carlo Ancelotti on the Real Madrid bench. If you decide to manage your own team, you will have the opportunity to do so in the shoes of Andrea Pirlo or Thomas Tuchel, among others. That's right! Many coaches are modeled, so you'll be able to take on their appearance to be able to put yourself on the bench of RC Lens.
When you buy players for your team, the game will tell you if you got a good deal or if you got totally screwed. We could also choose our kits and customize them, so we could make a club to our image until the end of the sleeves. New features that allow us to really evolve and develop our negotiating skills. You will become formidable… On the player career side, a personality point system has been added. Depending on your actions, your stats will grow and your player will develop a more altruistic personality or a true leader. On and off the field: manage your own image. Whether it's in the player or coach career, you can step in and take control of your team during highlights.
EA puts us a little more as the main actor of this career mode and we totally validate it. We are really immersed in the organization chart of a club from A to Z and we can choose all the paths we want to give to our avatar. It's well designed, it's different, the career mode proves once again that it hasn't finished surprising us yet. The new cinematics also reminds us of adventure games with full-screen sequences.
The career mode remains a strong element of FIFA and EA has understood it well. By betting so much on this mode, it is a successful bet. On the other hand, EA has abandoned VOLTA by not proposing anything innovative. By focusing on Ultimate Team and Career, FIFA has chosen not to get involved in VOLTA. A disappointment perhaps for some. But hey, with all the new features and improvements on some points, we won't start being picky now! VOLTA stays on its basics and it's, for the moment, very good like that. FIFA 23 is still a much more pleasant experience than its predecessor, despite VOLTA's stagnation.
Finally, the last big new feature is the possibility to play online with players from other consoles. XBOX, PlayStation, and PC players finally get together in the same universe. The benefits of cross-play. It's not just for FUT Champions and Division Rivals. We haven't had much of a chance to see the effect it has on the transfer market yet, but of course, it's a lot more fun to play against everyone.
CONCLUSION
FIFA 23 offers a refreshing wind of change. The game keeps its promises and finally we feel that we are entering a new era. While the game was starting to feel a bit humming and getting lost in its difficulties, this new episode puts us right back into it. FIFA23 is so realistic that it's sometimes confusing. EA marks its target before moving definitively to EA Sports FC next year. A last episode with FIFA that will impress you no matter which game mode you choose. Moments is a great entry in the field. The hyper motion is much better exploited and you can feel it on all points. In short, EA Sports has mastered its subject on almost all points.