Release Date : 18 February 2022
Developers : Guerrilla Games
Publisher : Sony Interactive Entertainment
Platforms : PS4, PS5
It's already been five years since PlayStation and Guerrilla offered us the first chapter of Aloy's adventures, through Horizon Zero Dawn. An open-world action-adventure game that was comparable to Zelda Breath of the Wild which was released a few days later, but had managed to seduce us thanks to an inspired universe, nearly flawless technical skill, and brilliant gameplay. With Forbidden West, the goal is simple: to do better on all fronts, both on PS4 and PS5. A successful bet?
Horizon Zero Dawn may have been released five years ago, but Aloy didn't wait all that time to go on an adventure. In fact, six months separate the events of the first opus and those of Forbidden West. A time that the heroine used to try to destroy Hades for good, a huge computer virus powerful enough to wipe out all life on earth. So yes, she thought she had successfully completed her mission at the end of Horizon Zero Dawn (Guerrilla gives us a short summary before starting the game) but she didn't count on dear Sylens, a wandering researcher from the previous episode, who managed to extract a part of the dangerous entity, causing storms and the appearance of a dangerous red plant. At the very beginning of Horizon Forbidden West, Aloy finally thinks she has the solution, but – plot twist – no luck: she will have to go to the Forbidden West to save the world. A forbidden region because it is ruled by the Tenakth tribe and big machines.
MAGNIFICENT UNIVERSE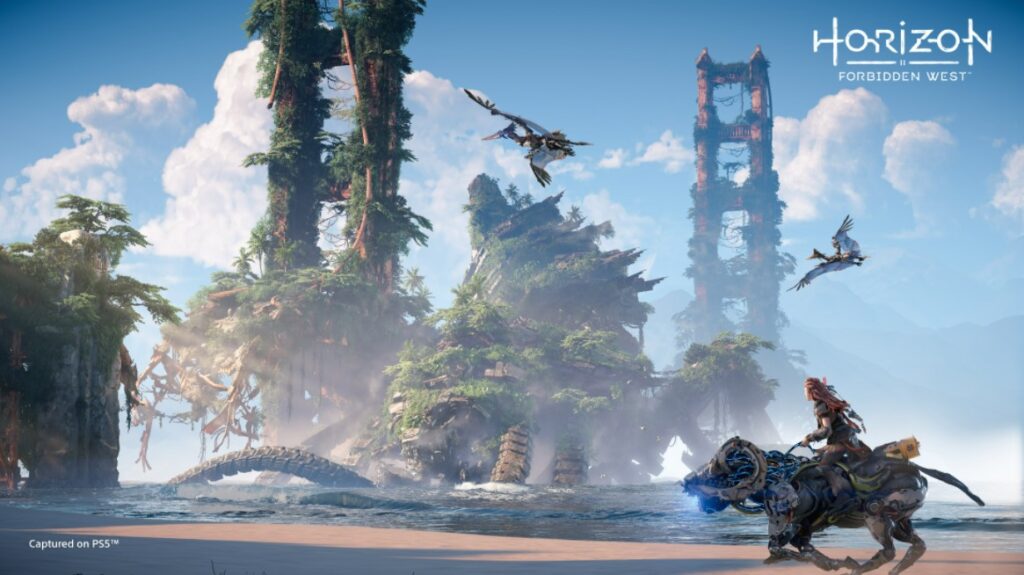 Remember that cocktail of excitement and fascination when, in Horizon Zero Dawn, you came across your first Great Neck (a fusion between a diplodocus robot and a radio antenna tower) or your first large ruin? Well in Forbidden West, it's a feeling that's almost continuous. With this sequel, Guerrilla Games studio gives its post-apocalyptic world a massive, magical boost.
It's simple, each area of the Forbidden West tells its own story, with artistic mastery and attention to the details of each moment, superior to what Zero Dawn offered. As a reminder, Horizon takes place in a world where the Ancestors once ruled, the equivalent of the inhabitants of our time but with more advanced technology and huge machines at every corner.
During your journey, you will often come across large metal carcasses and ruins, relics of a vanished era. All this in a magnificent nature, which perfectly exploits the scenery of the western United States. It's inspiring, impressive, and truly challenging.
How big is the playground of Horizon Forbidden West?

If you're ever wondering, Horizon Forbidden West is far from the largest open-world created to date, but it's certainly one of the most beautiful and well-designed. Guerrilla says that this new playground is "slightly larger" than Zero Dawn. We shouldn't expect something as imposing as Assassin's Creed Valhalla. This is not a bad thing: the Forbidden West is crowded and designed with great care.
Of course, beyond the hard work of Guerrilla's artists, the technical aspect also plays an important role. Whether in 4K on PS5 or PS4 Pro, Horizon Forbidden West is absolutely stunning, and it also looks great and stable – though logically less impressive – on PS4 Fat in 1080p. The integration of the three supports is quite impressive, even if the new generation version is the winner, with the DualSense which brings convincing and pleasant "next-gen" vibrations. On PS4 Pro / Fat, Aloy's adventures have longer loading times, more aliasing, and less successful light effects. But the most important thing is here. In their respective resolutions and in 30 frames per second (the only mode offered on PS4), these versions are more than satisfying. Note that on PS5, the title is not always perfect. In Performance – 4K / 60 fps -, there is still a lot of aliasing in the areas with a lot of vegetation and during the cut-scenes. But also small problems with sound, collision, and display.
FIVE STARS NARRATION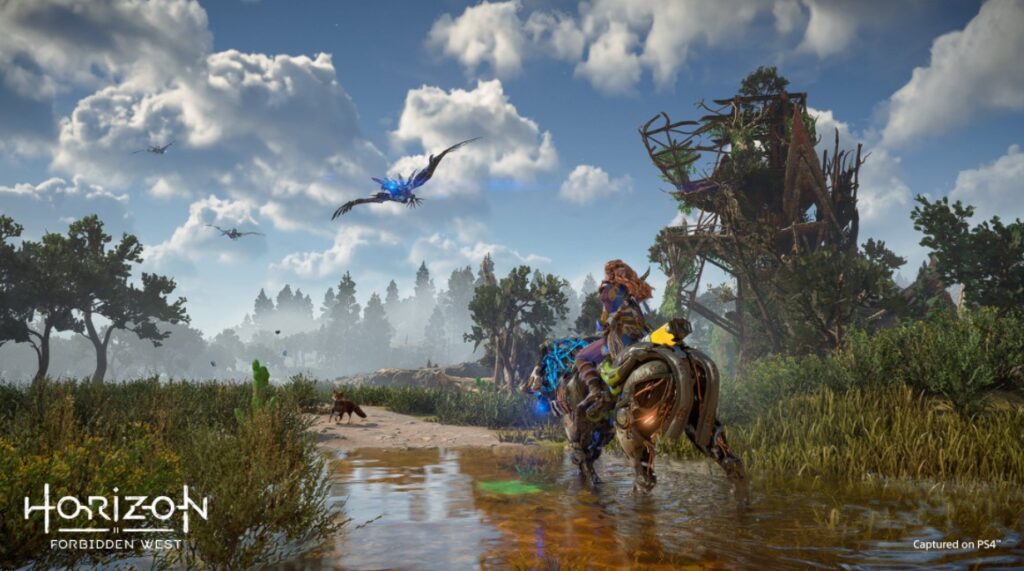 With Horizon Forbidden West, you'll have your eyes full for a long time. Count on about 20 hours straight to finish the main quest, more than double that to complete all the side quests, and nearly 60 hours of play to reach 100%. While we're on the subject of missions, you should know that the narrative is another strong point of Guerrilla's title. Horizon Forbidden West is both visually appealing and very well written and directed. This last point has often been criticized in Horizon Zero Dawn and is now completely corrected. Forget the static conversations, based on field, counter-field: in this second episode, almost all the dialogues – even the most insignificant ones at first sight – are accompanied by nice camera angles.
A detail that highlights Guerrilla's very accurate writing, both funny and touching, as well as the excellent redesign of the faces (still a bit inexpressive at times) and the work on the costumes of the different tribes. The main quest benefits from this care, with some nice action scenes, but also the side quests. These side quests are generally very well done, sometimes approaching the quality of the major adventures, often varied and systematically scripted. A very good point, which allows you to immerse yourself in the universe.
Side stories that accompany the main plot wonderfully: Horizon Forbidden West is exciting and engaging from the beginning to the end. The adventure never gets boring and often manages to surprise the player, whether it's with an unexpected plot twist, an inspired and original gameplay phase, or a new gameplay innovation that opens up other paths. Actually, only the ending is rushed: it clearly lacks a scene to bring a real endpoint. But nothing dramatic. It remains a success, which is also due to the very good gallery of characters – good guys and bad guys.
Aloy, who was already charming in Zero Dawn, confirms herself here as an excellent heroine, whose strong personality shines through in all the dialogues, especially those with her fellow travelers. Because in Horizon Forbidden West, the hunter is no longer alone. Varl and Erend, from the first episode, will be important allies, even if they don't accompany her regularly in the game. Moreover, after a few hours, Aloy and her companions will settle in a base that reminds us of the camp in Red Dead Redemption II. The place will evolve as you progress with new rooms, dialogue choices, and a lot of funny details here and there. The whole thing reinforces the sense of teamwork and adventure.
RENEWED EXPLORATION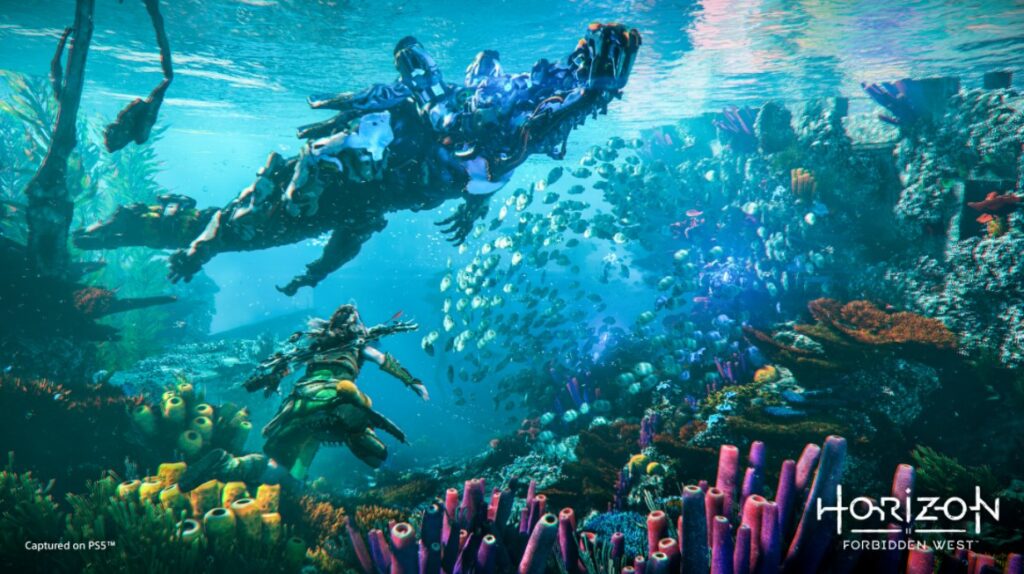 Beyond the narrative, exploration also takes a significant leap forward. Horizon Zero Dawn sometimes had narrow locations, timidly fleshed out by very well-defined climbing phases. This is no longer the case in Horizon Forbidden West. Guerrilla's title integrates a lot of new features that make exploration much more fluid and flexible. Starting with the climbing possibilities, which have been greatly improved.
And no, you can't climb on any surface, like in Assassin's Creed: Valhalla or Zelda: Breath of the Wild. This kind of acrobatics is restricted to very specific points, which you can see thanks to the Focus, which can now quickly scan the area around Aloy. Guerrilla has chosen to "limit" – or rather "control" – this aspect of the game to leave the field free for environmental puzzles, where you have to find your way through ruins to get an object for example. A good choice in our opinion, but it can lead to some frustrations, like when the architecture of a building seems at first glance perfectly suited for climbing. Another little thing: the precision of this climbing system, which sometimes leaves something to be desired.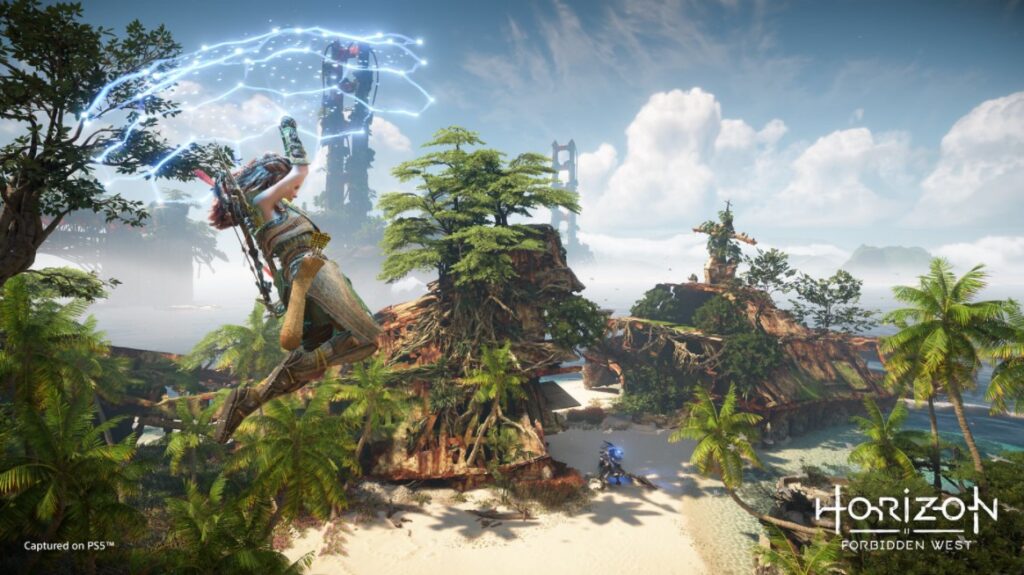 Among the other new features, there is the famous Shieldwing Glider like Zelda: Breath of the Wild, which allows you to glide through the air until you fall back to the ground. But also the grappling hook, capable of launching the heroine on a ledge or on top of a column (or even to pull debris and thus clear passages in the ruins). Not to mention the underwater phases, which are quite successful but a little neglected overall. These are some useful additions, that make exploration much more pleasant, but they don't challenge the open-world structure, which is still very classical and almost identical to the previous episode.
The progression scheme remains linear: accept a quest and follow the pointer on the map, even if there are some efforts to move away from this model, especially for a specific part of the main adventure. Horizon Forbidden West is thus an open world with a familiar construction, but it's well-designed and it's a real achievement for the genre. The slightest detail, carcass or ruin, makes you want to stop on the side of the road, places that almost always hide a treasure. Not to mention the points of interest indicated on the map, most of them coming from Zero Dawn (hunting areas, camps to attack, crucibles) but which always find a twist to renew themselves, like with the Tall Necks.
EXTENSIVE COMBAT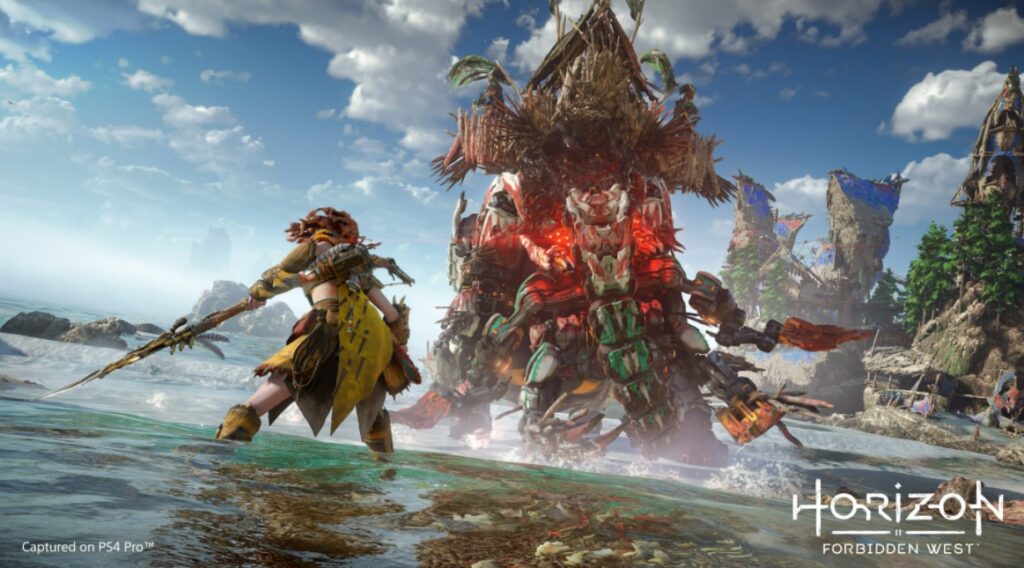 The Tall Necks are friendly, but not all metal creatures are. Once again, the machines take center stage in Horizon Forbidden West, and they have also been given a lot of attention. Their animations and design are more convincing than ever, both for the new species and for those already known. To fight them, Aloy will be able to rely on her new moves: the heroine's agility is at the heart of the action phases. Horizon's arenas now have hook points for your grappling hook (which can be destroyed by the creatures), useful for getting out of the fray and gaining height, then activating the Glider.
Moments "with your head in the clouds" that allow you to observe the battlefield, create the opportunity to hit a decisive piece of machinery, or go far enough to refill your ammunition – the crafting aspect " in the air " always occupies an important place. Horizon Forbidden West's fights are thus more fun and dynamic. The excellent work on Aloy's animation is also worth mentioning, which enhances this success. Finally, instead of antics, it is again possible to be discreet against humans or monsters. As in the past, this point does the job without really excelling.
Focus on the Focus, a 2.0 version that makes combat more engaging:

Beyond instantly scanning the area around Aloy and revealing hanging points for climbing (but also items of interest for crafting), Focus now allows for more advanced analysis of machines. In Forbidden West, it is possible to quickly navigate between the weak points of a monster and even lock them individually, in order to keep an eye on them in the heat of the action. Useful to be aware of opportunities to trigger a chain reaction, or to detach a weapon. It's also a great way to prepare for battle and to watch the creatures carefully. As a reminder, thanks to the Focus, Aloy is able to get information about a lot of things via a kind of augmented reality.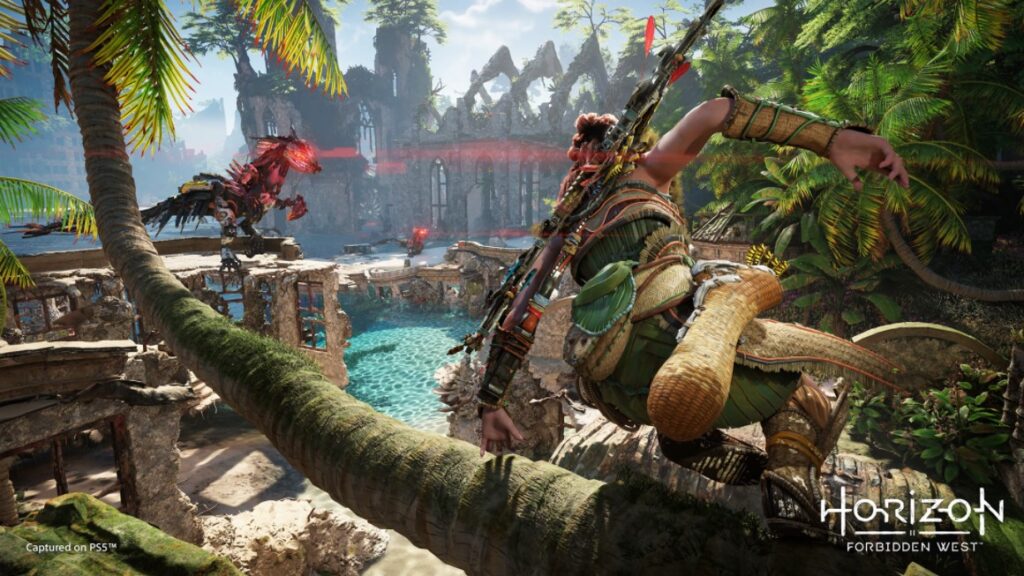 But as they say, the best defense is a good offense: Horizon Forbidden West clearly improves the range of possibilities to defeat the machines. First of all, thanks to a couple of new weapons – we wouldn't have said no to a little more choice – but above all, because from now on, the whole arsenal can use a side shot. Eventually, your bow will be able to rain arrows down on the enemy, for example, or a devastating explosive shot, in exchange for a little stamina.
Everything is gathered in a new skill tree, much more complete than in the past. It is indeed possible to choose between six classes, which favor either spear attack, bow attack, trap laying, infiltration, resistance, or hacking. With enough experience, you'll even unlock " Valor Surges ", a kind of big bonus that greatly increases Aloy's power depending on the selected class (more effective attacks in close combat, on machine parts, even becoming invisible). After hours of play, it will even be possible to complete each of the six paths, to be a pro everywhere.
The whole game is rewarding and complete, providing a real rise in power during the adventure. For instance, the spear fights, which have been improved here, gain in combos and mechanics. A strength increase was also embodied by the workbenches, a new feature to improve weapons and armors. In short, Guerrilla's title has it all.
Conclusion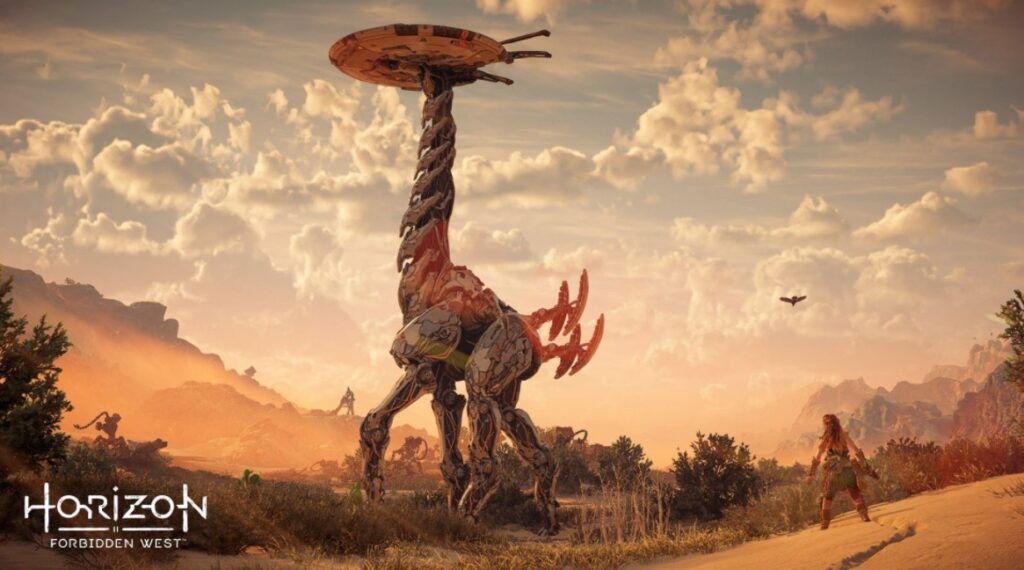 Based on its already great first episode, Horizon Forbidden West hits the stars, becoming a real achievement for the Guerrilla Games studio formula but also for the "classic" open-world genre in general. Exciting from the beginning to the end, with a universe with a magnificent artistic direction, better written and directed, and more engaging regarding the battles and the exploration, the title is almost flawless on everything it offers, showing an attention to detail at every moment. Moreover, Horizon Forbidden West even has the luxury of being excellent on PS5, PS4 Pro but also PS4 Fat, thanks to excellent cross-generation work. We can only regret that the ending is a bit rushed, and that there are no major new features. Nothing to spoil the great adventure that awaits in the forbidden West. A truly exceptional title.