Release Date : January 20, 2022
Developers : Ubisoft Montreal
Publisher : Ubisoft
Platforms : PS4, PS5, Xbox One, Xbox Series X/S, PC, Stadia
When looking at Extraction, you might think that the Rainbow Six saga is taking a surprising direction given its basic background: however, don't get me wrong, the series keeps its DNA while opting for a risky supernatural approach. A successful turn for the franchise?
Rainbow Six is a saga that has a long history in the video game industry. We're talking about an initial game released in 1998 on PC, directly inspired by the famous novel by Tom Clancy, which now counts some twelve games to its credit. The last of them, which we're talking about today, is definitely intriguing: the Archaeans have chosen Earth as their next family meal, and it should be mentioned that they are quite aggressive aliens, and not very friendly at all. This is a deliberate move away from the very realistic worlds of the previous games, of which Siege is certainly the most successful episode.
It is true that this one marked a whole generation and that it continues to be very active thanks to its multiplayer component, which is more than essential, but rest assured: Extraction takes many of its codes and transfers them to a zombie world that can be played cooperatively (up to three players, online), which has also been popular for many years now. So much so that some will call the title a Siege bonus mode sold as a stand-alone: there may be a bit of that, yes, but the experience offers solid and unique assets in its favor.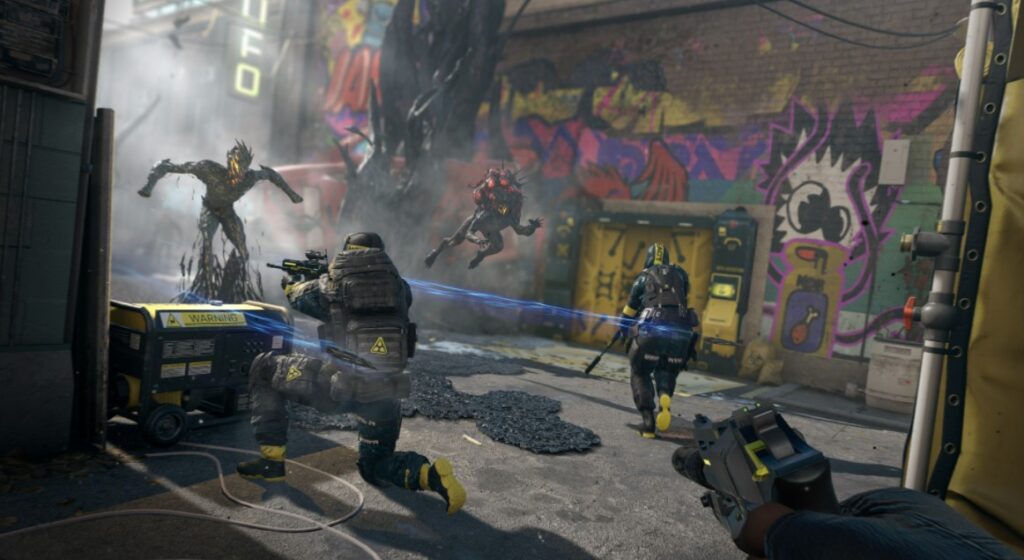 THE GREAT QUARANTINE
Faced with an alien invasion, totally unexpected by humanity, North America is turned upside down. Certain key points are taken by storm and totally dominated by the Archaeans: faced with the unknown, the REACT organization sends its best soldiers, coming from the various intervention groups of the world, to the field. Their goal is to infiltrate enemy territory in order to retrieve information, with the aim of finding out more about this unique threat.
A good excuse to offer a variety of missions in four different locations – New York, San Francisco, Alaska, and Truth or Consequences (in New Mexico) – each divided into three separate maps for a total of twelve maps. We'll venture into a police station, the Statue of Liberty island, a space research station, or a gloomy motel with, each time, three objectives to accomplish, given randomly from a list of thirteen.
BUSY SCHEDULE
Among these, there are offensive objectives – destroying enemy nests, eliminating an elite Archaean, capturing a specific specimen, etc. – Others are defensive, such as defending explosive charges or holding positions while the area is scanned. Still, others rely heavily on hardcore infiltration. The reality is that Extraction is a game with a poor storyline: it is designed to be a mission after mission and, thanks to its randomness, each mission is not meant to be experienced in the same way.
In fact, it works quite well and thanks to a precise system that we have to explain. Each map is composed of three sub-zones with, for each of them, a goal to reach. When you start a game, you will start in one of the sub-areas without knowing which one; similarly, there are several starting points each time.  Enemies and objectives are also placed in new locations. From the start, certain voluntary disorientation is established, allowing us to see a map differently, even if we have just walked through it. Once an objective is completed, you can go to the SAS, located at a specific point, and go to the next sub-area to complete the next mission, for a total of three, randomly.
The ultimate goal? Complete all three objectives before heading to the extraction point and ending the game. Needless to say, this is a challenging task, and at any time you can choose to extract yourself if you feel the situation is getting out of hand, even if you haven't managed to complete any objectives. Of course, the further you go, the more enemies you kill, the more HP ("hit points") you get at the end of the mission and the higher your game score will be… meaning more experience points. But if you fail and "die", you will only get a part of the XP and worse, you will lose your Agent (your character), which becomes unusable.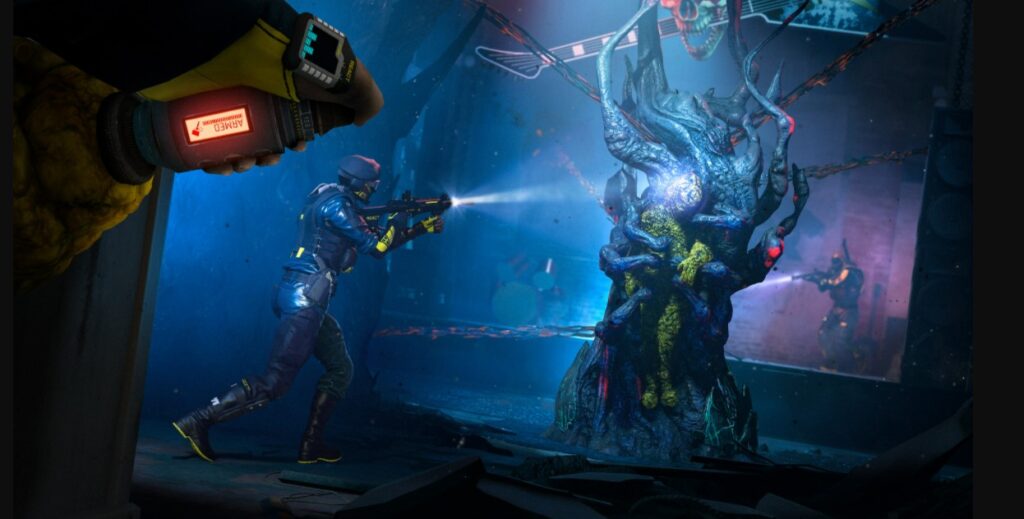 Helpful Agents

Recovering your fallen Agent is simple and at the same time very risky: you must return to the field to repatriate him. Protected in a cocoon designed by REACT but trapped in an Archean tree, you'll have to extract him from the enemy's grip and carry him to the extraction point: he'll become playable again once he's brought back to the fold and after having recovered enough HP. The same goes for other agents: if you finish a mission while losing HP, your character will be injured and unplayable while he recovers. To heal your characters on standby, you will have to do other missions with other operators, and the higher your game score, the faster your Agents will recover.
MUSCLES, BRAINS, AND ACCESSORIES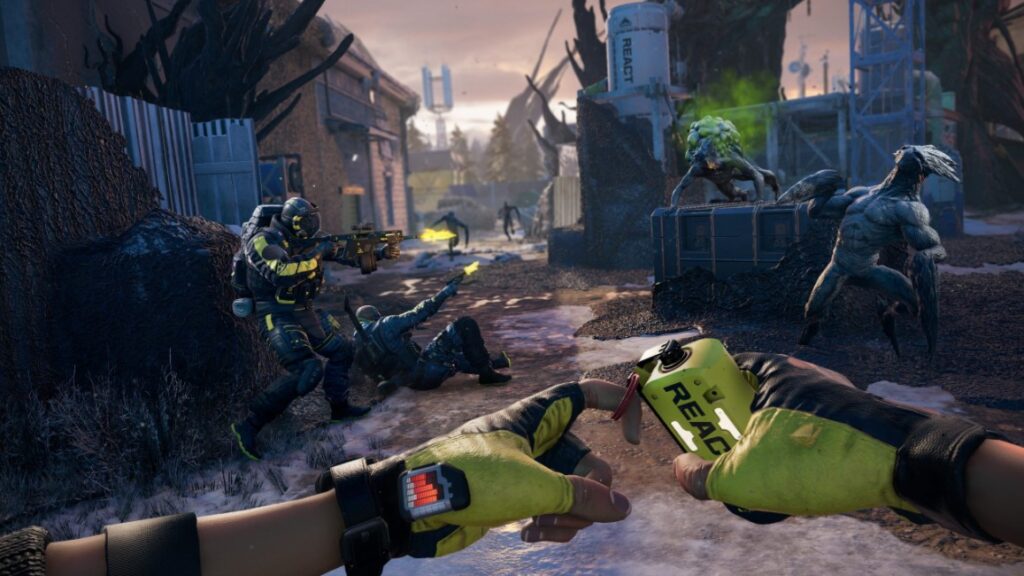 Rainbow Six Extraction has a multitude of very precise mechanisms, where nothing is left to chance. A bit confusing at the beginning, the mechanisms are gradually understood and allow us to see a clever experience, as much in its general design as in its gameplay or the architecture of its levels. Let's also warn you that this is a very difficult game, far from being easy to access, especially if you don't try hard enough. The beginning of the adventure (which is limited to New York and its three maps for the first three XP levels, as well as the first two difficulty modes) generally reminds you of the order: already because there is a real caution and rigor to understand and adopt, but also because your agents will not be well evolved.
The more you play with an operator, the higher your game scores will be with him, and the more you will level him up, 10 being the maximum. At each level, you'll unlock new perks for him and him alone: this can be stronger armor or slightly increased speed, but also new weapons or improved unique skills. So it goes without saying that you will become more and more prepared for the challenge as the game goes on. Like Siege, each character has unique abilities: all of them are from the 2015 game, such as Alibi and his decoy, Vigil and his ability to make himself invisible, Pulse and his scan that detects nests and large enemies or Sledge and his famous destructive hammer. Then there's Capitão with a crossbow or Fuze whose charges on the walls explode to deliver projectiles to the other side: Eighteen characters make up a truly consistent cast, to be unlocked gradually. But we really regret that there are no new operators.
RAINBOW THREE
The idea is obviously to be able to offer intelligent three-way cooperation, among the best of the games of the genre. Let's face it: it is possible to play Rainbow Six Extraction alone, and in fact, the objectives adapt to the number of players (a single person will have only one sector to defend, for example, as opposed to two sectors for two people, and the same for three). However, it is with friends that the title reveals all its flavor: very demanding, but relying on a level design and perfect gameplay, the possibilities are really numerous to accomplish your objectives.
In fact, it's hard to describe the pleasure of completing certain objectives, completing an entire mission without a second thought, or beating the highest difficulty with your pulse ready to explode. It is especially through persistence and learning that you gradually manage to master all the ideas: sharing the game with a friend or two is a real pleasure. You can feel the soul of Siege, relying heavily on this precise component to defeat the opposing team, which once again proves to be very effective even against alien enemies.
SHOOT IT, BUT NOT JUST ANY WAY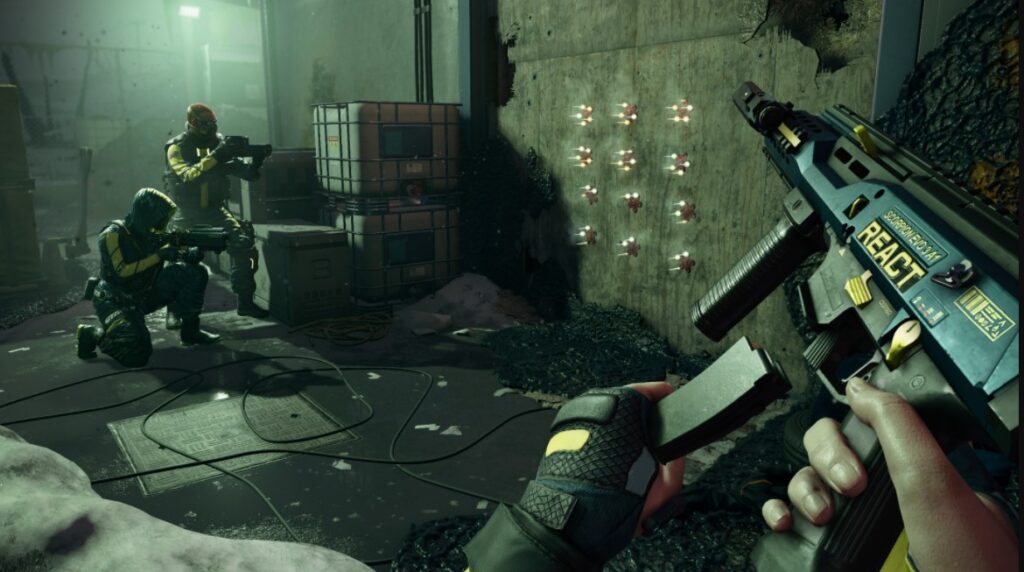 As for the gameplay, Extraction also knows how to do it. It must be said that Ubisoft is backed by its formidable experience with the Rainbow Six saga, which certainly reached its peak with Siege. Many elements are used here: you can angle your weapon to the left or right to gain stealth, you can shoot through many surfaces to catch your enemies from behind, while you can barricade certain windows and entrances to protect strategic points. All of this obviously goes hand in hand with a precise, sometimes complicated, but never accidental level design (and that's the main thing).
Above all, the gameplay takes on a new dimension as the levels are completed. In addition to those corresponding to the agents, there is a general level that gives access to a whole range of things: new places and new agents, but also REACT points to spend in the dedicated menu. This is where you can buy various accessories that can really make a difference once you're in the game: stun grenades, revival syringes, armor pieces, scouting drones, smoke bombs, mines, and so on. Everything has its own purpose when you know how to use it, and it can be very effective when combined with other players' equipment. If you form a team with complementary talents and know how to interact, you can really enjoy Extraction and its depth.
However, there is a small drawback concerning the arsenal: each Agent has a small handful of weapons (to be unlocked progressively), which we would have liked to see more substantial and above all more customizable. You can equip a silencer, a muzzle brake, a holographic or reflex sight, as well as a vertical handle and others, but the choice is very limited and does not vary much. We quickly find ourselves going around in circles when it comes to the guns themselves, an essential element for a first-person shooter.
THE HUNDRED HOURS WAR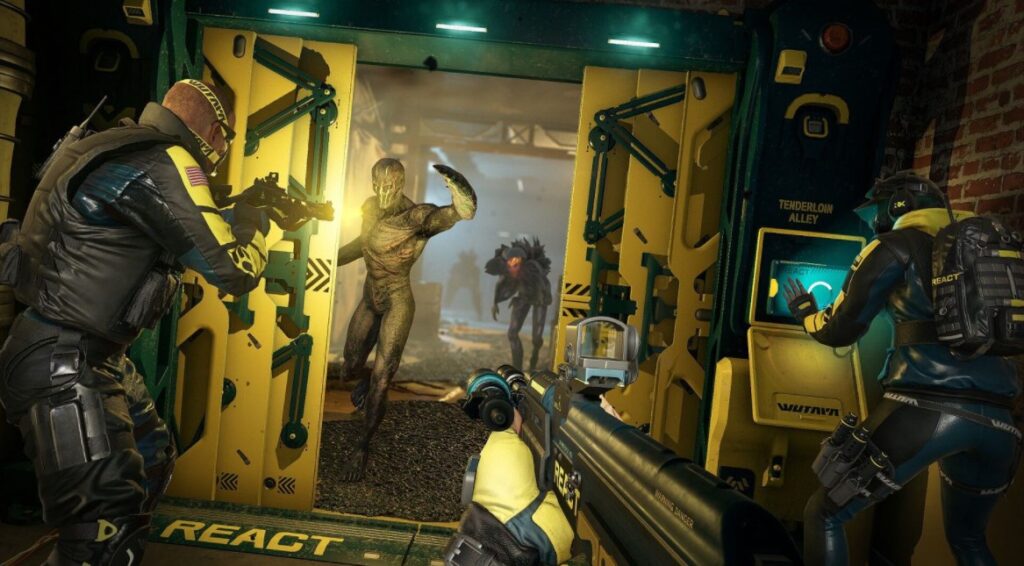 You may have understood it, but Rainbow Six Extraction is a game that focuses on re-playability. If you unlock more and more content as you go up in XP levels, the main interest is to replay some maps again and again, ideally in a new difficulty. There are four of them: Moderate, Dangerous, Serious, and Critical. For each of them, more XP points can be earned with obviously more dangers: for example, the density and diversity of the enemies (and their damaging effect) will be more significant in the high difficulties, even full in the last one.
Also, some random variations can be introduced: acid spores stuck to the enemies in one case; in another, the nests (which lay eggs for the enemies and must be destroyed quickly) will be protected by a membrane, impossible to explode with firearms. Similarly, emergence (a black, sticky substance that slows your steps but speeds up your enemies) can be harmful if stepped on. If you manage to extract yourself by overcoming one of the variations, you'll get even more XP points. More risks, more rewards: everything makes sense and the challenge is real.
AN ENDLESS DAY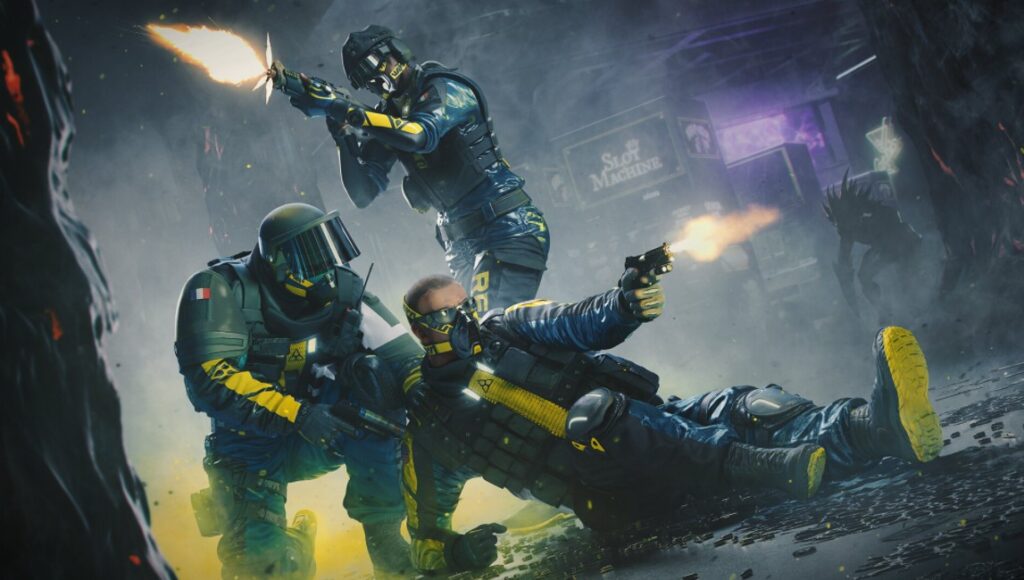 The game wants to minimize repetition with its randomized system of objectives and enemies: it works, even if we would have liked even more missions and different maps (things certainly reserved for Season Pass holders). Small optional objectives are also to be accomplished, to gain extra XP, pushing to discover some new little things. It's hard to give a precise lifespan for Extraction because of its concept, which pushes you to replay the levels again and again to unlock new agents, new tools, new skins in order to master the whole game.
Count on 15 to 20 hours to reach level 17 (there are 30 in total) and unlock all the maps, as well as the Protocol Maelstrom, considered as the endgame content of this title. It's a question of playing nine sub-zones in a row with a selection of operators (renewed after a few days), with increasing difficulty and progressively decreasing resources. The interest is obviously to get a maximum amount of XP and cosmetics: a real challenge, quite hardcore, reserved for the most courageous.
But if we officially use the term "endgame" it means, by definition, that this mode takes place after the end of the game. That's where the problem lies, because Extinction doesn't have an ending, nor even a story to follow: you unlock a few very brief cutscenes to introduce the new environments, but… that's it.
To tell the truth, it's a shame for a PvE title (players against NPCs) that has every interest in offering a cooperative adventure: we mostly have the feeling of sailing here and there, from one level to another without importance or obligation, but without a precise path except the one roughly guided by the XP levels. There are no specific bosses, no story to follow and the only information about the context is to be read in the menus! If Ubisoft's game had presented more scripted and staged elements, the feeling of really moving forward in a logical universe, of having an impact against the invasion, and giving legitimacy to the whole thing would have been much, much appreciated.
PLEASANTLY STICKY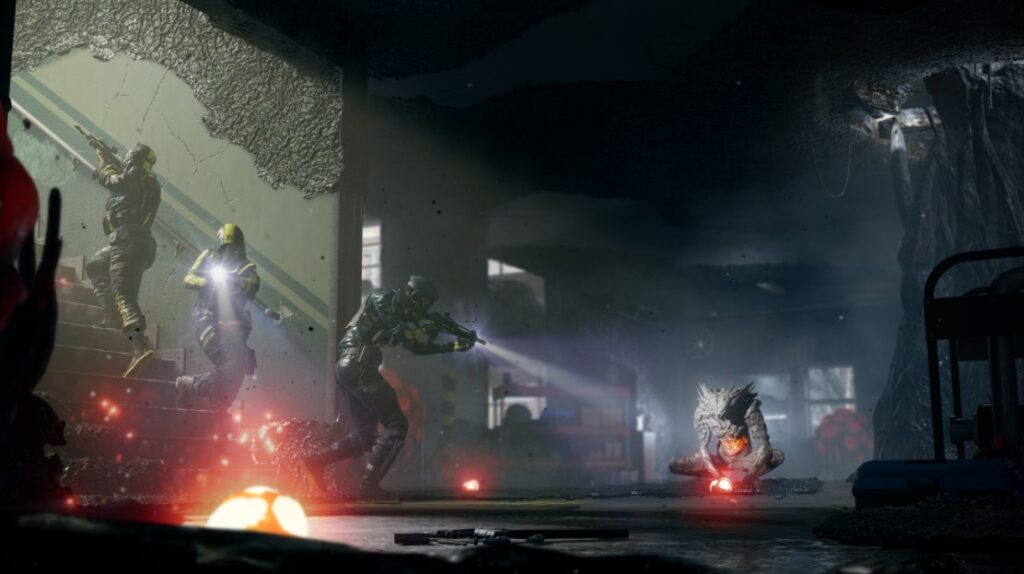 Finally, a quick look at the technical and artistic realization, which is obviously important for a game of this genre: we have nothing to complain about with Rainbow Six Extraction, which is globally successful in these precise aspects. The visual and sound effects are remarkable: a stable framerate at 60FPS, detailed textures, and a brilliant lighting atmosphere give a dirty and symbolic aspect to the Archean invasion. The rendering of the latter is accurate, chewing up the environments and giving rise to some ravaged places, which look strangely designed. The artistic direction is well prepared and is supported by an equally sharp sound design: whether it is the more or less "sticky" footsteps, the sticky sound effects, or the background music that is sometimes anxious, sometimes stimulating, the rhythm is well maintained and adapts to infiltration as well as to big muscular shootings.
Moreover, we can only advise you to play with headphones or a good 5.1 system, as the sound and its decentralization are so important: it is crucial to be able to find your way in the environment, as the game does not do you any favors at the slightest misstep (just a few enemy hits and you are on the ground: life does not self-renew!). If you are not so lucky, discreet and clear visual notifications are present to guide you and warn you of surrounding sounds and their nature. By the way, let's take this opportunity to point out a small imperfection, concerning the reproduction of weapon sounds that we didn't find up to scratch: too light, not impactful enough, the gunshots give a slight fake feeling that we would have liked to appreciate more.
Fortunately, the sensations are well managed on the PS5 with the adaptive triggers of the DualSense controller, greatly reinforcing the immersion. In short, Extraction is definitely one of the good surprises of the beginning of the year, allowing you to immerse yourself in a zombie-like universe with all the finesse and intelligence of the Rainbow Six saga. This is a good way to stand out from some of the competitors of the moment, such as the nasty Back 4 Blood.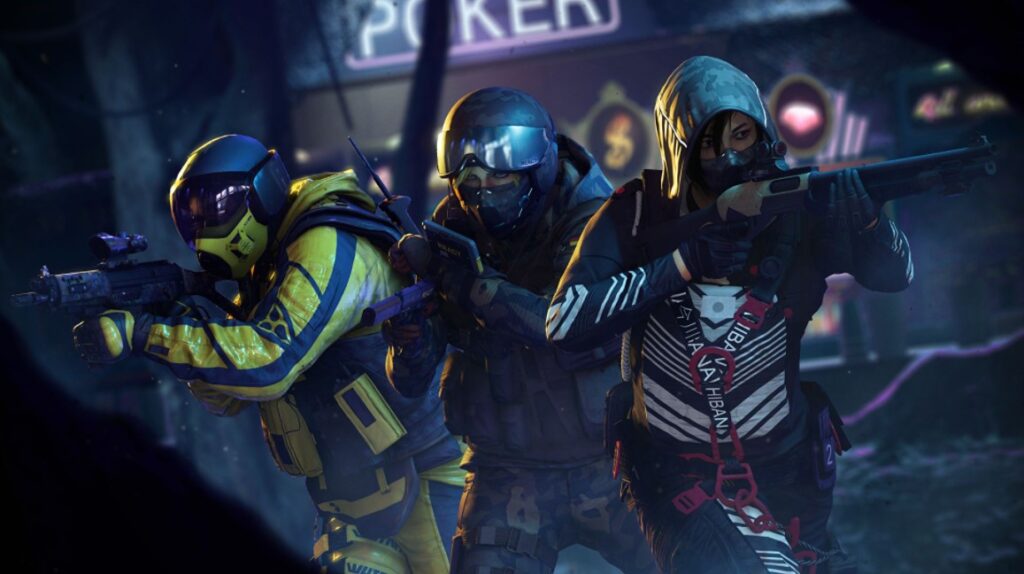 Conclusion
The greatest strength of Extraction is undoubtedly that it manages to mix two very different universes with brilliance: on one hand, the ultra-calculated military aspect of the Rainbow Six saga and, on the other hand, the endless trend of the infected (or zombies) that has been taking our favorite hobby by storm for years. And if some people are tired of facing the undead, again and again, Ubisoft's title is a smart way to refresh the formula while keeping the DNA of its series: it's definitely a smart title that requires thinking, assimilating, and adapting to discover its true flavor. More than ever, the mutual aid and the multitude of accessories allow for numerous possibilities, resulting in a cocktail that is enjoyable for anyone who likes intense and reflective co-op games. Not everything is perfect: we would have definitely liked a real storyline to give legitimacy to the game, for example, but the pleasure provided by a successful adventure by the sweat of the forehead makes us largely forgive its few disappointments.