Cyberpunk 2077 was released after many years of waiting, although the experience was almost excellent on the PC and the new generation consoles in terms of graphics and performance, but unfortunately nevertheless it was heavily mired in errors on the PlayStation and Xbox, and this almost completely ruined the experience. As for the experience of the previous generation PlayStation 4 and Xbox One, it was a real disaster by all means, not only in terms of technical errors, but also in regarding the shocking graphics quality, and even more the sharp and almost continuous reduction in the number of frames during the gameplay.
This prompted Sony, which had just announced in an official statement that it had removed Cyberpunk 2077 from the official PlayStation Store until further notice. And it also offered a full refund to any player who purchased the game from the store without any conditions.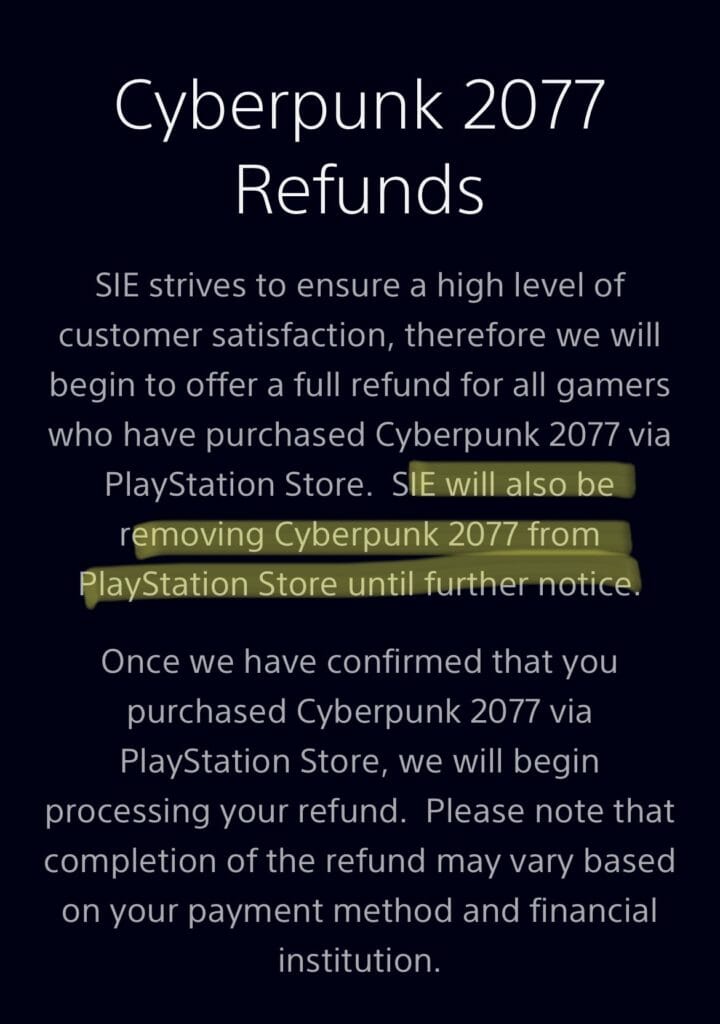 The company added in another statement via the Twitter platform:
Many of the players who bought the game found it difficult to recover the money promised by the studio through the official apology letter, either through stores such as Gamestop or in digital stores such as PlayStation Network and Xbox Live, so Sony probably made this move in order to put the points on the letters, and end this disaster.
CD Projekt Red Studio is currently putting all its focus on an upcoming major game update and the first of these updates is scheduled for release next January 2021, the second will be released in February, and according to CD Projekt Red studio, these updates will correct most of the issues that players currently face in the game on all platforms without exception.