Like every month now, Amazon Prime Gaming is offering a handful of free games to subscribers. The selection for January 2023 is now available.
Amazon Prime Gaming ended the year on a high note with the surprise addition of 10 games, including some great classics in the mix. If you still have a few days left to pick up Dishonored 2, Metal Slug, and all the other gifts offered at the end of December, the American publisher is now making room for January free games. And there are some very nice things in the lot once again.
Amazon Prime Gaming January 2023 free games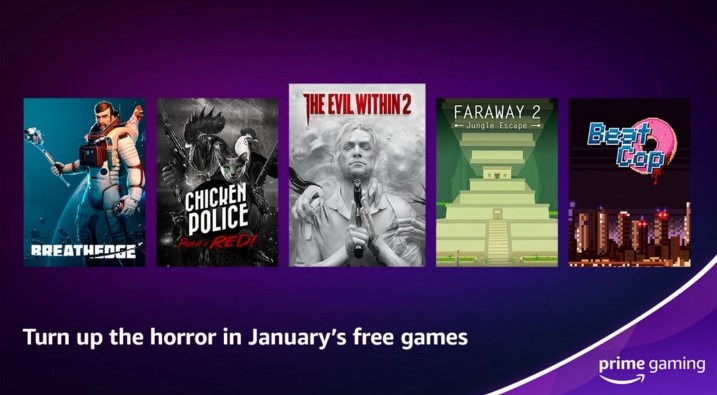 The free Amazon Prime Gaming games are back in action. The new year has just begun, and the e-commerce giant is already starting to spoil its subscribers with a series of new gifts. As usual, there is something for everyone, with Evil Within 2 as the headliner, along with the independent game Chicken Police – Paint it RED! which is quite recent and has been well received. These new gifts will be available from January 3 to 31, 2023. Without further delays, here is the complete list of games available on the official website:
January 2023 free games list
The Evil Within 2 (GoG): the title follows Detective Sebastian Castellanos who has lost absolutely everything, even his daughter Lily. In order to hopefully save her, he must dive back into the thrilling nightmare world of STEM where terrifying threats await him in every corner of this world that is warping around him. A good horror game to get for free.
Lawn Mowing Simulator: a little free WTF game of this Amazon Prime Gaming selection. It is nothing less than a simulation inviting you to mow parks and gardens in the most beautiful English countryside at the wheel of lawn mowers from famous companies.
Breathedge: In this survival game, you must discover what is behind the sudden crash of your space shuttle. Make tools, control space stations, explore debris and fly a variety of vehicles to survive in space. All this with an immortal chicken.
Beat Cop (GoG): small freeware independent game in pixel art. Here you must explore the darkest corners of New York and uncover its secrets as Jack Kelly, a former detective accused of murder. Although it is a modest title, it has received excellent ratings. Don't miss it.
Chicken Police – Paint it RED! It was one of the independent sensations in 2020, and now it is one of the free Amazon Prime Gaming titles. Chicken Police – Paint it RED is based on an interrogation system and solving an investigation. All this with a background of raw history and a sense of humor.
Faraway 2: Jungle Escape: released on December 15, 2022, this is an adventure game with an escape game style that is meant to be relaxing. This second part of the trilogy invites you once again to solve a lot of puzzles. On the program, 18 new temples were filled with enigmas.