After being leaked and then confirmed by Sony, the PlayStation Plus Essential games are now available for download, at no extra cost for all subscribers to PS Plus Essential or higher. And to start the year, Sony has seen things in a big way.
For this month, no less than 3 big games are offered, and when we say big, we mean it in every sense of the word. Not only are two of them AAA, but they are also pretty heavy. So be sure to make room on your PS5 and PS4.
Three huge games to start the year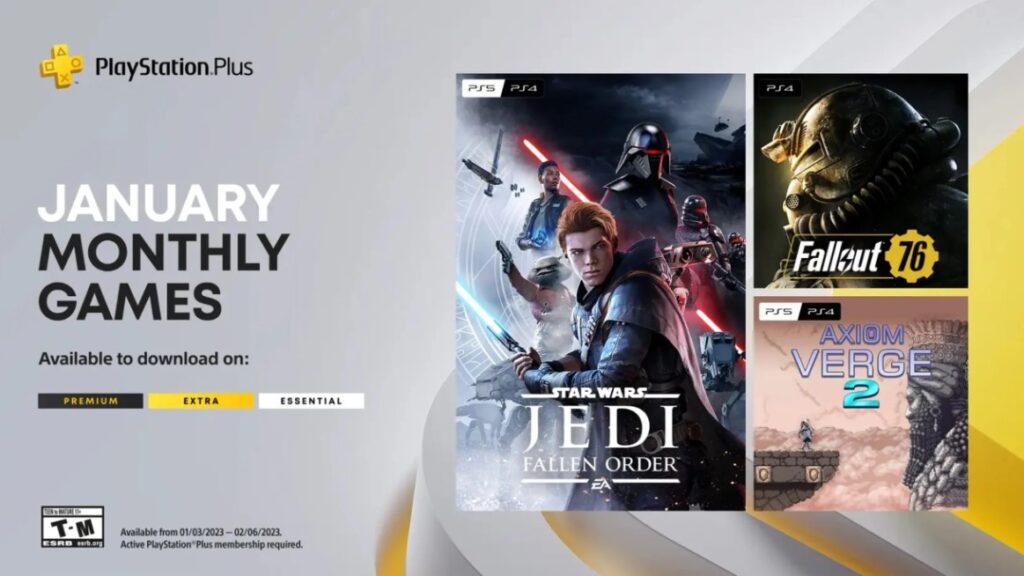 There's the excellent Star Wars Jedi Fallen Order from Respawn. An action-adventure game halfway between souls-like and Metroidvania that will keep you on the edge of your seat for about thirty hours in a new slice of the Star Wars universe. Its sequel, Star Wars Jedi Survivor, will be available on March 17th, 2023 on PS5, Xbox Series, and PC.
The second AAA game to be released this month, Fallout 76 was a bit of a shock when it came out, mainly because of its dated technology, its several bugs, and its obvious lack of ambition. Despite this, the game has been supported by a large number of players and by developers who are dedicated to the task. As a result, four years after its release, Fallout 76 has become a multiplayer game packed with content that will keep you behind your screen for many hours.
Finally, the last game on the list is none other than Axiom Verge 2, the sequel to the successful indie game of the same name. An old-school Metroidvania entirely realized in pixel art, Axiom Verge 2 offers a unique universe and inventive and addictive gameplay.
You've got plenty to do while waiting for the big January releases like Dead Space Remake, Monster Hunter Rise, or One Piece Odyssey.
So tell us, what is your program to start the year on a good note ?