After Spider-Man: Homecoming in 2017 and Spider-Man: Far From Home in 2019, Tom Holland's Spider-Man plans to return to our screens at the end of 2021 with a brand new movie, but for now, except for a few rumors that have been denied, nothing has been revealed about the project… However, the main actors of the trilogy have been talking today on social networks to announce three different titles.
Indeed, the future adventure of the Spider-Man is not satisfied with just one title as you can see by visiting the Instagram account of the different actors. In fact, Tom Holland, Peter Parker's performer, shared the following title : Spider-Man: Phone Home. For his part, Jacob Batalon, the actor playing Ned Leeds (Peter Parker's best friend) unveiled a second title, named Spider-Man: Home-Wrecker. And finally, Zendaya, MJ in the movie, revealed the third title Spider-Man: Home Slice.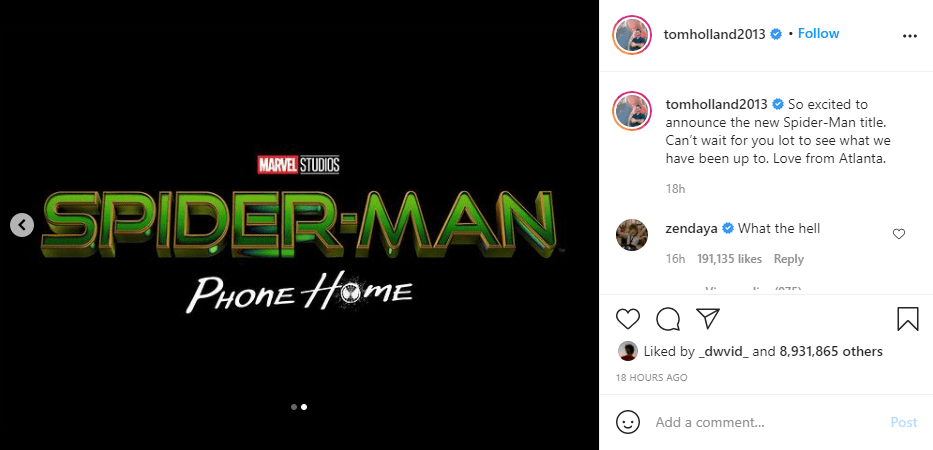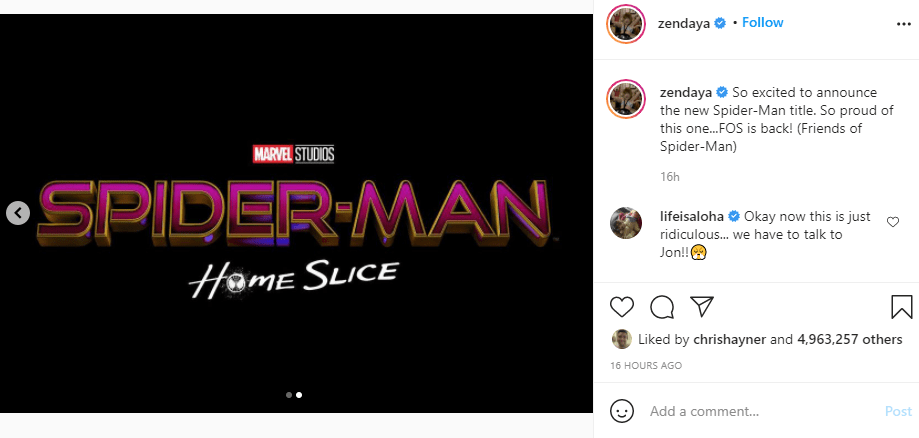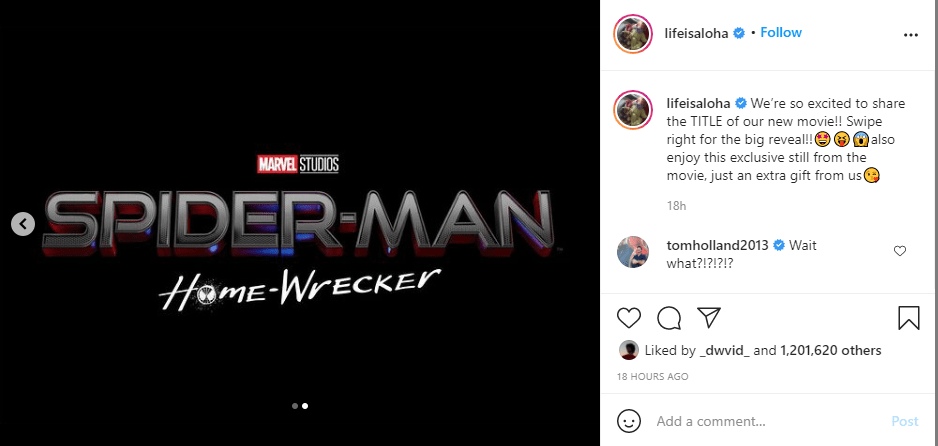 Of course, we imagine that none of these three titles will be the real name of this third Spider-Man adventure, but it might give us some clues about its official title or about the script direction taken by the film. A few months ago, there were many rumors of a multiverse where all the Spider-Men from the movies (Tom Holland, Andrew Garfield, and Tobey Maguire) would unite together.
A rumor that has since been swept away by Tom Holland, but which is now coming back to the forefront with the arrival of these three new titles. Other clues would go in this direction since two of the villains of the old generations of Spider-Man will make their big comeback in this new adventure, namely Electro and Doctor Octopus which will be played respectively by Jamie Foxx (The Amazing Spider-Man: The Fate of a Hero) and Alfred Molina (Spider-Man 2).
As a reminder, in addition to the inseparable trio and the two villains mentioned above, the movie directed by Jon Watts will also feature Marisa Tomei (May Parker) and Benedict Cumberbatch (Stephen Strange/Doctor Strange). All this is expected in American movie theaters for December 17, 2021. In order to make us wait until this far-off date, the movie also reveals three new images.